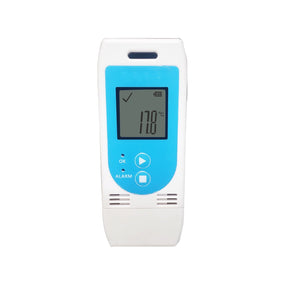 DL-TZ-TEMPU03 temperature and humidity data logger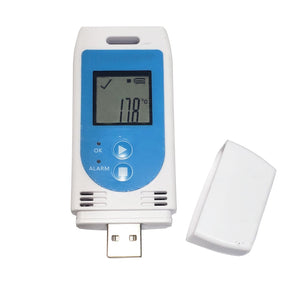 DL-TZ-TEMPU03 USB connector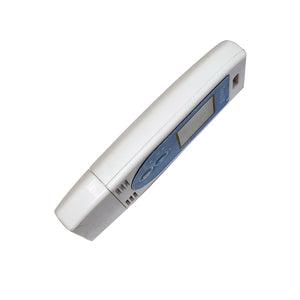 DL-TZ-TEMPU03 sideview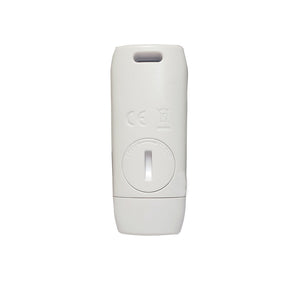 DL-TZ-TEMPU03 rearview
Simultaneous Temperature & Humidity Recording
32,000 Temperature and 32,000 Humidity Readings
Current Temperature and Humidity Displayed LCD Screen (one value at a time)
Configuration Software Included for Logging Parameters, Alarms, and Start Delay
Automatically Generates PDF report and CSV File
Multi-Use
Flexible Data Logging
The DL-TZ-TEMPU03 is a flexible and easy to use data logger. The logging can be started immediately after pressing the start button on the face of the logger or after a user programmable time delay (up to 254 minutes). The logging interval is also programmable and may be set for sample rates of every 10 seconds to every 18 hours. The DL-TZ-TEMPU03 can hold up 32,000 temperature readings and 32,000 humidity readings. This allows for very long logging periods. For example, with the recording interval set to 20 minutes you log data for a full year (battery limitations apply). The logged temperature can be in either °C or °F. The data is stored in the logger's internal memory in two files. One is a CSV file which can be imported into Excel or most other data analysis software packages. The other is pre-formatted PDF report. Either the PDF report or CSV file may be retrieved without the need for any other software. Just plug the logger into any Windows computer's USB port; both the CSV and PDF files are accessible by accessing the logger as a USB drive.

Alarms
High and low alarms may be set for both the humidity and temperature. When in alarm condition, the "Alarm" LED on the front of the logger will light. A programmable alarm delay up to 960 minutes may be added. This delay can be used to stop the logger from triggering an alarm if a momentary high or low condition occurs.

Configuration Software (Free Download)
The DL-TZ-TEMPU03 can  be used right out of the box with its factory configuration but in order to customize its operation to your exact requirements Once the configuration software is loaded to your PC, plug the logger into your computer's USB port to configure it. The software allows you to set the temperature units, logging interval start method, start delay, alarm limits and temperature and humidity offset correction factors.

Once the data logger is configured, the software is only needed again if a change in the configuration is desired. The logger may be started and stopped from the front panel buttons and the logged data is accessible by accessing the logger as a USB drive. The software is available as a free download from this web page.

 To Order the model below scroll to the top of the page, select model, then  click on ADD TO CART button
| | |
| --- | --- |
|  PART NUMBERS | DESCRIPTION |
| DL-TZ-TEMPU03 | Temperature and humidity data logger |

Specifications:
Temperature Scale: °C or °F
Accuracy: ±3%RH; ±0.5°C (-20°C to +40°C), ±1.0°C (other range)
Operating Range Temp: -30°C to 60°C; Humidity: 0%RH to 85%RH
Resolution: 0.1
Memory Capacity: 32,000 (32,000 temperature and 32,000 humidity)
Recording Options: Push-To-Start or Start Delay
Recording Interval: Programmable (10s to 18h)
Start Delay: Programmable (0 to 254mins)
Alarm Delay: Programmable (0 to 960mins)
Alarm Range: Programmable high or low alarm limit for each channel
Shelf Life / Battery: Typically 1 year; CR2032 3.0V Lithium Battery (Depending on sampling rate and environment)
Report Generation: Simultaneously generate PDF report and CSV file
Communication Interface: USB 2.0
Dimensions: 89mm x 36mm x 16mm
Weight: 25g
Reviews