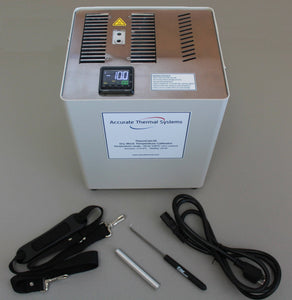 ThermCal130 Dry Block Calibrator
Laboratory Performance at an Economical Price
Lightweight and Portable for Use in the Field
Removable Probe Inserts for Flexibility & Many Probe Sizes
Ramp Rate Feature for Accurate Testing of Temperature Switches
Fast Heat Up & Stabilization
Operating Range: -25°C(-4°F) to 130°C(266°F)
Calibrated to C, contact IOThrifty.com for F calibration (no charge)
CE, Designed & Mfg in the USA
Traceable Cal Certificate
The Thermcal130 by Accurate Thermal Systems is a a precision dry block calibrator suitable for high accuracy calibration of temperature probes including RTDs (PT100), thermocouples , thermistors and any other probe style temperature sensor.
With over 25 years of experience designing, manufacturing and supporting Dry Block Temperature Calibrators, Accurate Thermal Systems has developed two units that offer outstanding performance features and value that are unmatched in the market place. These units have a small footprint, a fast heat up and cool down time and weigh only 17 lbs (with an insert) for both field and laboratory use.
Unlike many competing lower cost models that only offer a fixed block, these units accept inserts for probe size flexibility in addition to a fixed 1/4" reference hole.
The ThermCal130 controller offers a large, bright and easy to read display. Adjustable ramp rates for testing of thermal switches. The controller is switchable between F and C along with the ability to adjust unit calibration using the customer's own reference standard. Up to 8 set points can be saved for quick recall.
Included in the unit is a fixed  1/4" reference hole, carrying strap, insert removal tool, main cable and traceable calibration certificate.
For continued years of reliable operation, in addition to the heat sink cooling fan, a small chassis cooling fan keeps the internal components and the controller cool at all operating temperatures.
System requirements:120 or 240 VAC mains supply 50/60mz, 2 amp supply (120 volt), 1 amp supply (240 volt)
 To Order the models below scroll to the top of the page and choose the desired model from the "Power" drop down menu, then ADD TO CART

| | |
| --- | --- |
|  PART  NUMBER | DESCRIPTION |
| CL-AC-ATS3080 | ThermCal130 Dry Block Calibrator - 120 volt |
| CL-AC-ATS3081 | ThermCal130 Dry Block Calibrator - 240 volt |
| |   |
| ACCESSORIES | |
| CL-AC-ATS3074 | Insert 1/8" x 4" deep |
| CL-AC-ATS3075 | Insert 3/16" x 4" deep |
| CL-AC-ATS3076 | Insert 1/4" x 4" deep |
| CL-AC-ATS3077 | Insert 5/16" x 4" deep |
| CL-AC-ATS3078 | Insert 3/8" x 4" deep |
| CL-AC-ATS3052 | Carrying case |
Inserts may be ordered on the Inserts for Thermcal130 Temperature Calibrator webpage.
 Datasheets and Operating Manuals

SPECIFICATIONS
TEMPERATURE RANGE: -25°C (-4°F) to 130°C (266°F)
ACCURACY: +/-0.4°C/+/-0.7°F
STABILITY: > +/-0.05°C/+/-0.09°F
HEAT UP TIME -20 to 130C: 8 minutes
HEAT UP TIME 20 to 100C: 3 minutes
COOL DOWN TIME 20 to -20C: 9 minutes
COOL DOWN TIME 130 to 20C: 4 minutes
PROBE WELL DEPTH & INSERT DIAMETER: 4" depth by 1/2" diameter
POWER CONSUMPTION: 150 watts
OVERALL DIMENSIONS: 10.2" H x 9" W x 8" L
WEIGHT WITH INSERT: 17 lbs
WARRANTY: 2 years
Reviews