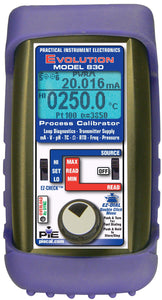 Multifunction Dual Channel Process Calibrator: mA, V, T/C, OHMS, RTD, Hz, pH, Pressure
First Multifunction Calibrator w/5 Troubleshooting Tools Plus a Universal Transmitter
Detect Hidden Loop Problems w/Patented Current Leak Detection Technology
Check All Loop Parameters at Once with the LoopScope
Automatically Detect 2,3,4-Wire RTDs
Swap Out Faulty Transmitters to Diagnose Control Issues
Troubleshoot Wiring Problems Without a Multimeter
Use as a Milliamp and Voltage Calibrator
Calibrate Directly in C/F
Checkout Flow and Vibration Systems
Simulate pH Probes into Transmitters & Analyzers
Measure Temperature Sensors, Frequency Pickups, Loop Currents, Voltage Levels & Pressure
Comes with NIST Cert, Rubber Boot, Carrying Case, Manual, Batteries, mV/RTD Test Lead Set, RTD Wire Kit
Get more tools in a smaller calibrator. Carry eight single function calibrators plus a milliamp calibrator with loop supply plus a loop trouble shooter in the palm of your hand.
The 830 is more than a multifunction calibrator. It is also a loop detective that is able to diagnose common problems that other test equipment just can't find. Have a flooded junction box or unknown ground faults? The 830 diagnostic technology will detect it. Or use the exclusive LoopScope to see at a glance all the parameters - milliamps, voltage and resistance - in the loop.
Stop throwing away perfectly good transmitters only to find the problem is somewhere else in the loop. Setup the 830 as an isolated universal transmitter and turn on the Loop Diagnostics. The display will tell you exactly the sensor input, the current output and if there is any uncontrolled current in the loop due to a ground fault, corrosion bridge or moisture. If the control system sees no problem when the 830 is acting as a transmitter then you can replace the faulty transmitter. With RTDs the 830 automatically detects which of the 2,3, or 4 wires are connected and unbroken quickly alerting you to a sensor problem.
 To Order the model below scroll to the top of the page then click on and ADD TO CART button

| | |
| --- | --- |
|  PART NUMBER | DESCRIPTION |
| CL-PI-830 | PIE 830 Multifunction Diagnostic Process Calibrator |
 Datasheets and Operating Instructions
SPECIFICATIONS
READ mA
Ranges and resolution: 0.000 to 24.000 mA or -25.00 to 125.00% of 4-20 mA
Accuracy: < +/-(0/02% of reading + 0.003 mA)
Voltage burden: < 2C at 24 mA
Overload/current limit protection: 24 mA nominal
SOURCE mA/POWER & MEASURE 2-WIRE TRANSMITTERS & PWRM LEAK
Ranges and resistances: 0.000 to 24.000 mA or -25.00 to 125.00% of 4-20 mA
Accuracy: < +/-(0.02% of reading + 0.003 mA)
Loop compliance voltage: > 24 DCV @ 20.00 mA
Loop drive capability: 1200 Ohms at 20 mA for 15 hours nominal
Loop drive capability: 1200 Ohms at 20 mA for 15 hrs nominal; 950 Ohms with Hart Resistor or leak detection running
mA 2-WIRE TRANSMITTER SIMULATIONS
Accuracy: same as source/power & measure
Voltage burden: < 2V at 20 mA
Overload/current limit protection: 24 mA nominal
Loop voltage limits: 2 to 60 VDC (fuse-less protected from reverse polarity connections)
VOLTAGE READ
Range and resolution: +/-99.999 mV, +/-999.99 mV, 0 to 10.250V, 0.00 to 60.00V DC
Accuracy: < +/-(0.02% of reading + 0.01% full scale)
Input resistance: > 1MOhm
SOURCE V DC
Ranges and resolution: -20.000 to 99.000 mV, 500.00 to 999.99 mV, 0.000 to 10.250V
Accuracy: < +/-(0.02% of reading + 0.01%full scale)
Source current: > 20 mA
Sink current: > 16 mA
Output impedance: < 1 Ohm
Short circuit duration: infinite
pH SOURCE
Accuracy in mV: < +/-(0.02% of reading in Mv + 0.1 mV)
Accuracy in pH: < =/- 0.003 pH @ 25C
THERMOCOUPLE SOURCE
Accuracy: < +/-(0.02% of reading + 0.01 mV)
Cold junction compensation: +/- 0.05C - thermistor traceable to NIST for 11 years
Output impedance: < 1 Ohm
Source current: > 20 mA (drives 80 mV into 10 Ohms)
THERMOCOUPLE READ
Accuracy & cold junction compensation: sames as thermocouple source
Input impedance: > 1 Megohms
Open t/c threshold: Pulse: 10K Ohms; <5 uamp puse for 300 milliseconds (nominal)
RTD, OHMS & CONTINUITY READ
Resistance ranges: 0.00 to 401.00, 0.0 to 4010 Ohms
Accuracy: +/-(0.025% of reading + 0.065 Ohms)
Excitation current: 1.0 mA to 401 Ohms, 0.5 mA to 4010 Ohms (nominal)
Continuity: 0.0 to 401.0 Ohms; beeps from 0.0 to 100 Ohms
RTD & OHMS SOURCE
3-4 Wire Accuracy from 1 to 10.2 mA external excitation current: +/-(0.025% of reading + 0.075 Ohms
Below 1 mA of external excitation current: +/-(0.025% of reading + 0.075 Ohms + 0.025 mV/mA excitation current)
2-Wire Accuracy: add 0.1 Ohms to 3-4 wire accuracy
Resistance ranges: 0.00 to 401.00 to 4010.0 Ohms
Allowable excitation current range: <401 Ohms: 10.2 mA max; steady or pulse/intermittent, 401 to 4000 Ohms: 1 mA max; steady or pulsed/intermittent
Pulse excitation current compatibility: DC to 0.01 second pulse width
FREQUENCY SOURCE
Ranges: 1 to 2000 CPM, 0.01 to 999.99 Hz, 0.1 to 9999.9 Hz, 0.001 to 20.000 kHz
Accuracy: +/-(0.02% of reading + 0.01% of full scale)
Output waveform: square wave, zero crossing -1.0 to +5V peak-to-peak +/-10%
Risetime (10 to 90% of amplitude): < 10 microseconds
Output impedance: < 1 Ohm
Source current: > 1 mA rms at 20 kHz
Short circuit duration: infinite
Optical coupling: green LED (HZ SYNC) flashes at output frequency
FREQUENCY READ
Ranges and accuracy: same as frequency source
Accuracy: +/-(0.02% of reading + 0.01% of full scale)Trigger level: 1 V rms, dc coupled
Input impedance > 1 Meg Ohm + 60 pF
OPERATING TEMPERATURE RANGE: -20 to 60C (-5 to 140F)
STORAGE TEMPERATURE RANGE: -30 to 60C (-22 to 140F)
TEMPERATURE EFFECT: < +/-0.005%/C of full scale; cold junction sensor, < +/-25 ppm/C
RH RANGE: 10% <RH <90% (0 to 35C) non-condensing, 10% <RH <70% (0 to 60C) non-condensing
ISOLATION
Voltage: 60V rms between all milliamp functions/read V DC & source V DC/Thermocouple/RTD/Ohms/Frequency/Pressure
Common mode: 50/60 Hz, 100 dB
NORMAL MODE REJECTION: 50/60 Hz, 50 dB
NOISE: < +/- 1/2 least significant digit from 0.1 to 10 Hz
DIMENSIONS: 5.63 x 3.00 x 1.60 in (143 x 76 x 41 mm)
WEIGHT: 12.1 oz (0.34 kg (including rubber boot & 4-AA batteries)
BATTERY LIFE
Read functions: > 20 hrs; read pressure > 7 hrs
Source mA: 14 hrs @ 12 mA into 250 Ohms
Pwr/meas mA: > 12 hrs at 30 mA
Source V, Ohms, T/C, pH, RTD, Hz: > 20 hrs
LOW BATTERY: Indication with 1 hr of operation left
PROTECTION AGAINST MISCONNECTION: Over-voltage protection to 60 vrms (rated for 30 seconds) Red LED indicates OVERLOAD or out of range conditions
DISPLAY: High contrast LCD with 0.35" (9 mm) high digits on main & 0.2" (5 mm) on mA display. LED backlight for use in dim lit areas
Reviews