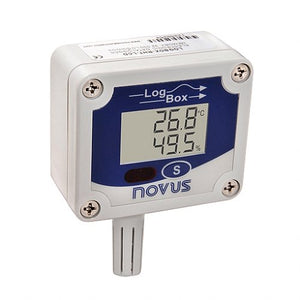 Reads Temperature or Relative Humidity/Dew Point Temperature
 Instantaneous, Minimum, Maximum or Average Reading
 Records up to 32,000 Logs
 Recording Interval: Programmable from 10 Secs to 18 Hours
 Logging Start Triggers

 Immediate
 On Button Press
 By Setpoint
 Date/Time
 Repetitive Date/Time

 Logging Stop Triggers

Memory Full
Continous Overwrite Last Data
Date/Time
After Number of Samples
The LogBox-RHT-LCD is a dual channel data logger with built-in temperature and relative humidity sensors. It uses a high-quality industrial grade humidity sensor for accurate and reliable operation in applications such as transportation, food and goods storage, process auditing, pharmaceutical, HVAC and others. The humidity output can be configured to display relative humidity values or the dew point.

The LogBox-RHT-LCD can be connected to a computer's USB port via the optional IR-LINK 3 infrared interface.  The free downloadable NXperience software is used to configure the configure the LogBox-RHT-LCD and to view the
downloaded data. Parameters such as start and end times of logs and log interval, for example, are easily defined through the NXperience software.

The temperature, humidity as well as the alarms will be displayed on the LCD screen.  The temperature input can be configured to be the current temperature, the minimum, maximum or average temperature.  The humidity can be configured for current relative humidity, current dew point temperature or the minimum, maximum or average of those values. High and low visual alarms may also be set for each channel.

The LogBox-RHT-LCD can record and store temperature and humidity at intervals from 10 seconds to 18 hours.  Up to 32,000 logs (16,000 for each channel) may be recorded in its internal memory. An option for a circular memory storage may be set which will allow the LogBox-RHT-LCD to continue storing data after its memory limit has been reached by overwriting the oldest data.

Powered by replaceable 3.6 Vdc lithium battery, the LogBox-RHT-LCD will operate for up to 200 days without replacing the battery (with one weekly download and 5 minute measuring interval).
NXperience - Configuration, Data Collection and Diagnostic Software (Free Download)
NXperience is a free configuration, data collection and diagnostic Windows software for NOVUS wireless transmitters and data loggers. This program allows you to explore all the features and details of the LogBox-RHT-LCD, through USB interface using the optional IRLink3-USB.

The NXperience allows configuration of the device and download of the data.  It  provides diagnostic tools which facilitates setup, operation, maintenance and trouble shooting of the device.

 To Order the model below scroll to the top of the page then  click on ADD TO CART button

| | |
| --- | --- |
|  PART NUMBERS | DESCRIPTION |
| LOGBOX-RHT-LCD | Humidity/Temperature Data Logger with LCD Display |
| Accessories | |
| IRLink3-USB | Infrared Interface for Data LOGBOX-RHT-LSC to USB port (required for connection to NXperience software) |
SPECIFICATIONS
Operating Temperature:  –40°C to 70°C
Sensor Measurement Range
    Temperature: –40°C to 80°C
    Humidity: 0 to 100% RH (non-condensing)
    Dew Point Temperature: –40°C to 100°C
Measurement Resolution: 0.1°C (temperature),  0.1% (RH)
Response time
    Temperature: up to 30 seconds with fairly still air
    Humidity: up to 8 seconds with fairly still air (20 to 80 %RH).
Memory capacity: 32,000 (32 k) logs total for both channels
Measurement Interval: 10 second min. 18 hours max.
Power Supply: 3.6 Vdc lithium battery (1/2 AA), replaceable
Battery Life: More than 200 days, with weekly data download and 5 minute logging (more frequent logging may shorten battery life)
Enclosure Material: Polycarbonate
Enclosure Protection Rating: IP40
Dimensions: 60 x 70 x 35mm (2.3 x 2.8 x 1.4 in.)
Reviews