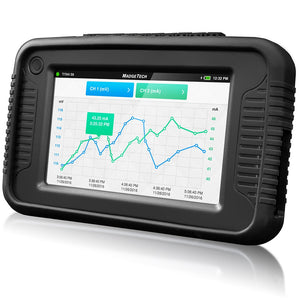 Titan 8 Channel Data Logger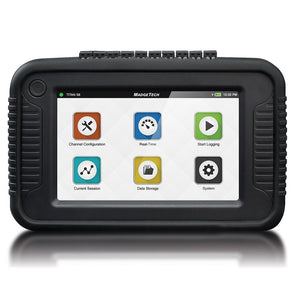 Titan 8 Channel Data Logger - Setup Screen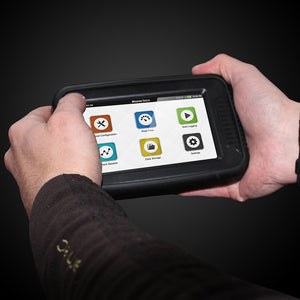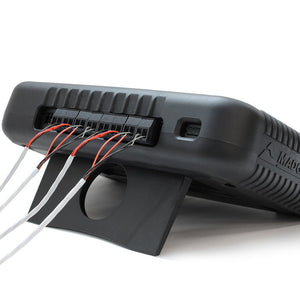 Titan 8 Channel Data Logger - Wiring Connections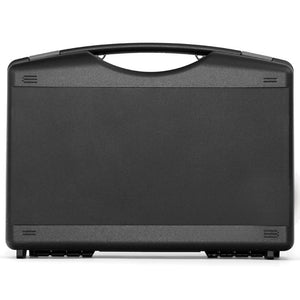 Titan 8 Channel Data Logger - Carrying Case
WiFi & Ethernet Enabled
8 Analog Input Channels
Inputs Include Thermocouple (J,K,T,E,R,S,N,B), RTD, Thermistor, Voltage, Millivolt, Current (mA), Frequency, Pulse
5 Inch Color Touch Screen Display
8 Virtual Alarms Plus One Control Output
Record Up to 1 Million Points, No Special Software Required
Portable Operation via its Rechargeable Battery
400Hz High Speed Single Channel Data Recording Mode
The Titan S8 is a portable industrial data logger with eight channels and a user-friendly touch screen interface. This versatile data logger measures and records temperature (Thermocouples, RTDs, PT100, and Thermistor), dc volts, millivolts, milliamp, frequency and pulse signals.
Versatility makes the Titan S8 a perfect companion for Industrial Engineers, Quality Assurance Professionals, Compliance Officers or Automotive Technicians. The Titan S8's touchscreen user interface allows for easy set up and configuration.
The Titan S8 is a powerful, independent tool. The Titan S8 delivers an all-in-one data collection and monitoring solution that does not require a PC or any downloaded software for operation.
Universal Sensor Input
The Titan S8 can read most common sensor types including temperature, pressure, flow and process signals. The Titan S8 features 8 analog inputs that can accept thermocouples (J,K,T,E,R,S,N,B), two, three or four-wire RTDs (PT100),  thermistors (2252Ω and 10KΩ), voltage (-0.5 to 12Vdc), millivolt (-100 to 2450mVdc) and current (-5 to 50mA).
One of the input channels may also be configured to accept either a pulse or frequency input.  All readings may be scaled to true engineering units.
Note: Only 4 channels of PT-100 are supported using 3 or 4 wire connection. 
Eight Virtual Alarms Plus One Control Output
The Titan S8 can be configured for one virtual alarm per channel with up to two alarm values per channel (above and below threshold). When the alarms are triggered, they are annotated to the graphical trend display and highlighted in red on the tabular display. The alarms can also activate a solid-state switch output which can be connected to and external device such as a light, annunciator or control element.
View Data in Real Time or Historical Data
The Titan S8 has several powerful data display modes.  You can view the data in real time or view the historical data in graphical or trend format. The real time display not only shows the current reading but also the minimum and maximum values. 
Data Logging with No Special Software Required
Powerful data logging options with the ability to store up to one million recorded values makes the Titan S8 an exceptional data logger. The user can select the channels to log and the data logging frequency. The logging may be started  and stopped with a key press or at a user specified time. After the data is logged it may be copied to a USB flash drive and imported directly into Excel or other data analysis software.
AC or Battery Powered
As a portable data logger the Titan S8 can operate on battery power for up to 9 hours while in the  recording mode or 100 hours in the standby mode. A charging cable is also provided with the logger so it may be operated from AC power.
High Speed Burst Mode with FFT Capabilities
Titan S8 offers a high-speed burst mode which will record data up to 400Hz on a single voltage channel. Coupled with the loggers integrated FFT abilities allows the TitanS8 to also be used for vibration analysis.
WiFi and Ethernet Enabled
The Titan S8 supports two main connection types for remote access: Wi-Fi or Ethernet. Wi-Fi and/or Ethernet is supported using an approved USB  to Wi-Fi/Ethernet dongle.  (Please contact IOThrifty for an approved dongle).
Web Server or VNC Server
The Titan S8 may be configured  as a Web Server or VNC Sever.   When configured as a web server, the Titan will serve internal web pages that may be accessed through any web browser.   As a VNC server the Titan S8 can be accessed using a VNC  viewer which will provide complete control over the Titan S8 using remote screens which are the same as the screens local to the Titan S8.  In order to connect to the Titan VNC server, the client requires a VNC viewer (many which are available for free download). 

 To Order the model below scroll to the top of the page and then click  on ADD TO CART button
| | |
| --- | --- |
| PART NUMBER | DESCRIPTION |
| DL-MT-TITAN-S8 | Titan S8 - 8 Channel Data Logger for Temperature, Process Voltage, Current and Pulse Signals |
SPECIFICATIONS
General

Number of Channels

8

Weight

1.3 lbs (20.8 oz)

Sample Rate

4KHz to 10Hz for single channel voltage and current only

4Hz to 1 sample/24 hours for all channels.

IP Rating

IP20

Start Modes

Immediate Start & Delay Start

Memory

1,000,000 or 5,000,000 readings

Battery Type

Rechargeable 3.7 V Lithium Ion Battery Pack

Battery Life

Continuous on-screen sampling: 7–9 hours depending on display setting and reading rate

Stand-by mode: 100 hours

Data Format

Exported .csv file format, .mtb or both

Time Accuracy

±1 minute/month

Operating Environment

0 °C to +50 °C (32 °F to +122 °F) 0 %RH to 95 %RH non-condensing

Enclosure Material

Polycarbonate, TPE Protective Boot

Calibration

Factory calibration is recommended annually
Thermocouples

Type

Range

Accuracy *

Resolution

J

-210 °C to +760 °C

±0.5 °C

0.1 °C

K

-270 °C to +1370 °C

±0.5 °C

0.1 °C

T

-270 °C to +400 °C

±0.5 °C

0.1 °C

E

-270 °C to +980 °C

±0.5 °C

0.1 °C

R

-50 °C to +1760 °C

 ±2.0 °C

±0.5 °C

S

-50 °C to +1760 °C

 ±2.0 °C

±0.5 °C

N

-270 °C to +1300 °C

±0.5 °C

0.1 °C

B

 +50 °C to +1820 °C

 ±2.0 °C

±0.5 °C
Accuracy does not include Cold Junction Compensation (CJC). CJC error: ±1.5 °C
| | |
| --- | --- |
| FREQUENCY / PULSE | |
| Maximum Count | 4,000,000,000 |
| Maximum Frequency | 25 KHz |
| Input Signal | 0 V to 12 V |
| Input Impedance | 58 KΩ |
RTD PT-100 (0.00385 CURVE)*

Range

-200 °C to +850 °C (Probe Dependent) (18.5 Ω to 390.5 Ω)

Resolution

0.01 °C

Accuracy

±0.1 °C (-200 °C to +400 °C) (Probe Dependent) ±0.034 Ω (18.5 Ω to 247.1 Ω)
* Only 4 channels of RTD PT-100 are supported using 3 or 4 wire connection.

NTC Thermistor-1 (2252, 10K)

Range

-25 °C to +150 °C (Probe Dependent) (29,380 Ω to 41.9 Ω)

Resolution

0.01 °C

Accuracy

±0.50% FSR (Probe Dependent)
Current

Range

-5 mA to 50 mA

Resolution

0.0001 mA

Accuracy

±0.024 mA (0 to 24 mA)

Input Impedance

30 Ω
0 - 100 mV

Range

-100 mV to 2450 mV

Resolution

0.0001 mV

Accuracy

±0.1 mV (0 to 100 mV)

Input Impedance

1 GΩ

Maximum Voltage

3.0 V
0 - 10 V

Range

-0.5 V to 12.0 V

Resolution

0.0001 V

Accuracy

± 0.01 V (-0.5 V to 12.0 V)

Input Impedance

1 GΩ

Maximum Voltage

25V
Reviews