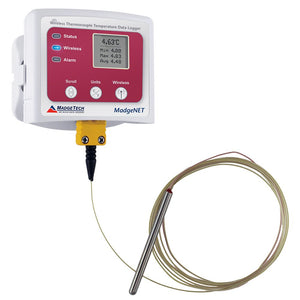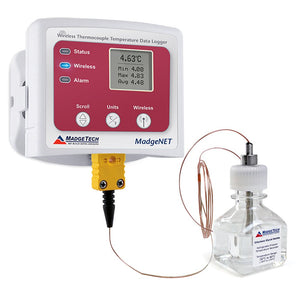 VTMS Wireless Vaccine Temperature Monitoring System with Optional Etylene Glycol Bottle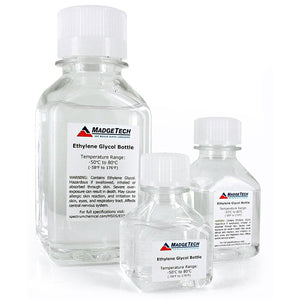 Optional Ethylene Glycol Bottles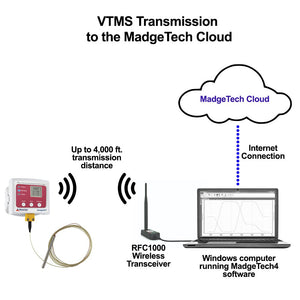 Meets or Exceeds CDC and VFC Requirements
Wireless Two-Way Communication
16,000 Reading Memory Storage
Visual and Audible Out of Range Alarms
Email & Text Message Alerts
Includes ISO17025 Accredited Calibration Certificate
The VTMS is an ISO17025 accredited wireless temperature data logging system specifically designed to continuously monitor temperature-sensitive vaccines/pharmaceuticals in refrigerators, freezers and coolers. The VTMS can measure and record temperatures as low as -100 °C (-148 °F).

This VTMS features an LCD screen which provides instant access to current readings, minimum, maximum and average statistics. Equipped with user-programmable alarms, the VTMS will alert or notify users via email or text when thresholds are breached, allowing users to take immediate action. For refrigeration storage, we offer optional ethylene glycol bottles to provide temperature buffered readings.

Wireless and USB Connectivity
The VTMS may be connected to a computer  through a wireless network. The VTMS connects wirelessly to the optional RFC1000 transceiver which then connects to a computer via a USB cable.  The wireless transmission distances can be up to 2000 feet outdoors/line of sight, 500 feet typical indoors/urban.  Additional distances may be achieved using additional RF1000s as repeaters. If a wireless connection is not needed the VTMS can connect directly to a computer via USB. The free downloadable MadeTech4 software supports connection to the VTMS through both the wireless and USB connections.

Out-of-Range Alarms
The VTMS offers both LED visual alarm indication and an audible buzzer on the device itself. In addition, the software can send alarms to an unlimited number of users in the event of a temperature excursion.

Low Battery Indicator
The on-board LCD display will clearly indicate the battery level. In addition, this device is capable of running off of external power, which allows the battery to simply function as a backup.

16,128 Reading Memory Storage
Stores over 16,000 readings in stand alone memory mode. In real time mode (connected to a computer) has no limitations to memory and can offer much greater visibility to temperature trends and analysis. The VTMS is compatible with the latest MadgeTech 4 Software making starting, stopping, and downloading simple and easy. Graphical, tabular, and summary data is provided for analysis and can be viewed as customizable engineering units.

Current, Minimum & Maximum Temperature Display
Displays current, minimum and maximum temperatures, which indicate the coldest and warmest temperatures recorded since the device was reset. Simple and easy to read LCD display of information without requiring button presses or determination of proper data displayed.

User-Programmable Logger Interval
Configured by the user to take readings at user-specified intervals from 1 reading every second up to 1 reading every 24 hours to create a complete overview and detailed record of the vaccine storage environment.

Free MadgeTech 4 Downloadable Windows Software
The VTMS works with MadgeTech 4, a free down loadable, Windows-based software which enables the user to effortlessly collect, display and analyze data.  A variety of powerful tools can be used to examine, export, and print professional quality reports with just a click of the mouse. MadgeTech 4 also can be use to automatically transmit data to the MadgeTech Cloud.

Free MadgeTech Cloud Access
The MadgeTech Cloud provides users with instant access to real-time data from any location. With the MadgeTech Cloud, data loggers can securely transmit data to be viewed on any Internet enabled device such as a computer, tablet or smart phone.  The MadgeTech Cloud is designed to support organizations of any size. From a single data logger to a network consisting of hundreds of loggers.  The MadgeTech Cloud allows users to configure alarms to alert for no readings, channel thresholds or battery level. When an alarm is triggered, text message or email notifications are instantly sent, giving users the ability to view the data and assess the situation immediately.

 To Order the model below scroll to the top of the page and then click  on ADD TO CART button
| | |
| --- | --- |
| PART NUMBER | DESCRIPTION |
| VTMS | Wireless Vaccine Temperature Monitoring System |
| | |
| Accessories | |
| RFC1000 | Wireless Transceiver |
| RFC1000-IP69K | Splashproof Wireless Transceiver |
| EG-BOTTLE-30ML | 30ml Ethylene Glycol Bottle |
| EG-BOTTLE-60ML | 60ml Ethylene Glycol Bottle |
| EG-BOTTLE-250ML | 250ml Ethylene Glycol Bottle |
Videos
SPECIFICATIONS

TEMPERATURE
Internal Channel
Temperature Range: -20 °C to +60 °C (-4 °F to +140 °F)
Resolution: 0.1 °C (0.18 °F)
Calibrated Accuracy:  ±0.5 °C/± 0.18 °F (0 °C to +55 °C/32 °F to 131 °F )
Response Time: 10 minutes free air

REMOTE CHANNEL
Thermocouple Connection: Female miniature
Cold Junction Compensation: Automatic, based on internal channel
Max. Thermocouple Resistance: 100 Ω
Thermocouple: K
Thermocouple Range: -100 °C to +80 °C (-148 °F to +176 °F)
Glycol Bottle Range: -50 °C to +80 °C (-58 °F to +176 °F)
Resolution: 0.1 °C
Accuracy: ±0.5 °C
Response Time: τ = 2 minutes to 63% of change

WIRELESS
RF Frequency:  2.45 GHz IEEE 802.15.4 ultra-low power wireless transceiver with fully bi-directional communication
Band:  ISM band 2.405-2.475 GHz
Maximum Output Power: +0 dBm typical Receiver Sensitivity

GENERAL
Reading Rate: 1 reading every second up to 1 reading every 24 hours
Memory: 16,128 per channel
Wrap Around: Yes
Start Modes: Immediate and delay start
Calibration: Digital calibration through software
Battery Type: 9 V lithium or alkaline battery included; user replaceable with any 9 V battery
Battery Life: 3 years typical at 1 minute reading rate
Data Format For Display: °C or °F, For Software: Date and Time stamped °C, K, °F, or °R
Time Accuracy: ± 1 minute/month
Computer Interface: USB to mini USB, 250,000 baud for standalone operation or RFC1000 required for wireless operation
Operating System Compatibility: Windows XP SP3 or later Software

Environment
Ambient: -20 °C to +60 °C (-4 °F to +140 °F), 0 %RH to 95 %RH non-condensing
Dimensions: 3.0 in x 3.5 in x 0.95 in (76.2 mm x 88.9 mm x 24.1 mm) Data logger only
Material: ABS Plastic
Weight: 4.5 oz (129 g)
Approvals: US (FCC), CA (IC), CE, South Korea (KCC), China (CMIIT), Japan (LCIE)

Alarms: User configurable high and low audible, on-screen, email and text (SMS) alarms.
Alarm Delay: A cumulative alarm delay may be set in which the device will activate the alarm (via LED) only when the device has recorded a user specified time duration of data.
Audible Alarm: 1 Beep per second for reading alarm above/below threshold
Reviews