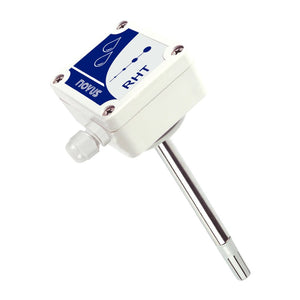 Loop Powered 4-20mA Output for Temperature and Humidity
Available with 150mm and 250mm Probe Length
Humidity Output May be Configured for Dew Point Temperature
Configurable Range
IP65 Enclosure
Field Replaceable Sensor
The RHT-DM is a low cost, highly stable duct mount relative humidity/temperature 4-20 mA transmitter.  It has two loop powered 4-20mA outputs, one representing ambient temperature and one representing ambient relative humidity (configurable for dew point temperature).
Configurable
The RHT-DM can be used right out of the box configured for the most common operating settings.  However, there are several operating parameters which can be configured using the free downloadable TxConfig software and optional TXCONFIG-USB USB adapter (sold separately).  Configurable parameters include: Relative Humidity or Dew Point - Chose your moisture content output to represent either relative humidity or dew point temperature.  Other configurable parameters include:
Measuring Range - Define the transmitter humidity and temperature measurement ranges.
Sensor Failure Action - Set the transmitter for either upscale or down scale behavior if the sensor fails.
Zero Correction - Set a correction factor to be applied to the output values

The factory default settings are:
  Humidity measuring range: 0 to 100%
  Temperature measuring range: 0 to 100°C
  Upscale signal outputs when sensor break or failure


Field Replaceable Sensor
The RH sensor may be damaged if exposed to contaminated atmospheres or chemical agents. In some cases the sensor's accuracy may be impacted but the sensor may not be permanently damaged. In these cases the sensor can  be removed and cleaned restoring it to normal operating performance.  However, chemical agents such as hydrochloric, nitric or sulfuric acid or ammonia in high concentrations may permanently damage the sensor.  In those cases the sensor may be replaced in the field.


.
To Order   or scroll to the top of the page then click on ADD TO CART button

| | |
| --- | --- |
| PART NUMBERS | DESCRIPTION |
| RHT-DM-150 | Duct mount humidity and temperature transmitter, 150mm probe length |
| RHT-DM-250 | Duct mount humidity and temperature transmitter, 250mm probe length |
| Accessories | |
| RHT-WM-SENSOR | Field replaceable sensor for RHT-DM or RHT-WM |


SPECIFICATIONS

Humidity Measurement
  Total Accuracy: See figure below
  Measurement Range: Configurable between 0 and 100 % RH or -100 and 103 °C            (-148 to 217.4) for dew point
  Response Time: 4s in fairly still air

Temperature Measurement
  Total Accuracy: See figure below
  Measurement Range: Configurable between -40 and 120 °C (-40 to 248 °F)
  Response Time: up to 30 s in fairly still air

Power Supply: 12 Vdc to 30 Vdc
Sensor Reading Rate: < 1.5 seconds
Outputs: 4-20 mA 2-wire loop power supply
Output Load (RL):  RL (Ohms max.) = (Vdc - 12) / 0.02 (Vdc = Power supply in Volts)
Isolation: 4-20 mA outputs are isolated from each other
Reverse Power Supply Protection: Yes
Electronic Circuit Case: IP65
Sensor Capsule: IP40
Operating Temperature: -10 to 65°C (14 to 149°F), 0 to 95% RH
Storage Temperature: -20 to 80°C (-4 to 176°F).

IMPORTANT
The transmitter sensor may be damaged or lose calibration if it is exposed to aggressive atmospheres with high concentrations as Chloride Acid, Nitric Acid, Sulfuric Acid and Ammonia. Acetone, Ethanol and Polypropylene Glycol may cause reversible measurement errors.
Reviews