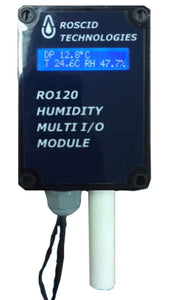 RO120-W-DIS High Accuracy Wall Mount Temperature, Dew Point and Humidity Transmitter with Remote Display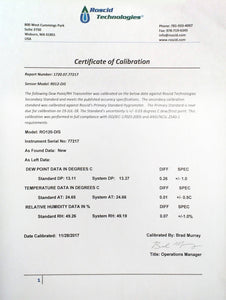 NIST Traceable Calibration Certificate
Measures Ambient Temperature, Dew Point and Relative Humidity
Precision ±0.5°C Temperature Accuracy
±1% Relative Humidity (RH) Accuracy
Three 4-20mA Outputs, 2 Programmable Alarm Relays and a RS232 Programmable Output
Corrosion Resistant Stainless Steel Sensor
Dual Line LCD Display
The RO120-W-DIS temperature, humidity and and dew point transmitter provides fast, high accuracy measurements for use in a wide range of industrial and laboratory applications. This instrument features three 4-20 mA analog outputs, one for each of  the three measurement parameters (temperature, relative humidity and dew point) as well as a bi-directional digital RS232 output and  2 programmable alarm relays. 
This precision instrument includes integral sensors for ambient humidity, dew point temperature and temperature  The electronic base unit has a two line LCD display and houses all signal terminal connectors.
This transmitter is ideally suited for many industrial applications requiring the monitoring of ambient conditions.
This item includes a base electronic unit,  NIST traceable certificate of calibration, user manual on CD and quick start guide.
SPECIFICATIONS
Ranges (Sensor)
Air Temperature : 0 to 60°C
Relative Humidity : 5 TO 95% (non-condensing)
Dewpoint : -60 to +95°C
Accuracy
Air Temperature : ±0.5°C
Relative Humidity : ±1%
Dewpoint : ±1°C
General
Speed of Response: 12 Seconds ( that is T63, 0 to 90%)
Sensor: Polymer-capacitive
Connections: Screw terminals, Wire (20-24awg)
Power Requirement: 18 to 30 Vdc, unregulated, 200 mA max
Compliance/Certifications
ROHS, CE
Manufacturer's Model Number
Manufactured in the USA by Roscid Technologies RO120-DIS
(Compatible with Omega Engineering HX86A)
Reviews