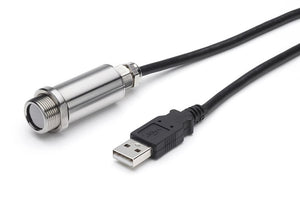 USB Infrared Temperature Sensor for Benchtop, Laboratory and Education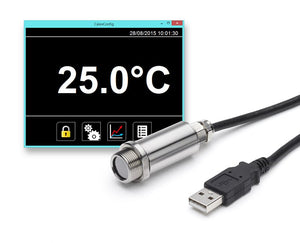 USB Infrared Temperature Sensor With Software
Miniature non-contact temperature sensor with USB communications
Measures temperatures from -20°C to 1000°C
USB cable included
Free software for data logging and configuration
Modbus protocol - use your own software to communicate with the sensor
The Calex PyroMiniUSB is a simple, compact infrared temperature sensor with USB communications. It can measure the surface temperature of a solid or liquid without contact. It can measure nonmetal surfaces between -20°C and 1000°C, with a response time of just 125 ms.
Materials including paper, thick plastics, rubber, food and organic materials, as well as painted metals and most dirty, rusty or oily surfaces, are measured accurately, safely and cleanly.
The sensor's rugged construction makes it ideal for benchtop, laboratory and  education applications.
The PyroMiniUSB is ideal for teaching science concepts such as emissivity, reflectivity, thermal conductivity, energy transfer, insulation and internal energy.
Combined with a blackbody calibration source, the PyroMiniUSB makes the ideal calibration reference pyrometer. Keep one in your calibration room and check the performance of your other sensors against it. IOThrifty can provide calibration certificates for traceability.
The included software is intuitive and easy to use, and the open Modbus protocol allows users to connect directly to the sensor using software of their own design.
CalexConfig is simple, touch-friendly software for use with one sensor. It is supplied with the sensor. Features include:
Temperature display
Data logging to comma-separated text file (compatible with Excel)
Scrolling temperature chart
Sensor configuration
CalexSoft 2 is capable of displaying, graphing and logging temperature data from multiple sensors at the same time. It is available as a free download. Features include:
All the features of CalexConfig, plus:
View multiple sensors in the same software
Customize the screen layout with graphs and temperature displays
Scroll between multiple screens of temperature information
Configurable usernames and access levels (admin and operator
 To Order the model below scroll to the top of the page, select the model from the drop down box then  click on ADD TO CART button

| | |
| --- | --- |
|  PART NUMBERS | DESCRIPTION |
| IR-CA-PMU201 | PyroMiniUSB USB infrared temperature sensor with 20:1 field of view |
| IR-CA-PMU21 | PyroMiniUSB USB infrared temperature sensor with 2:1 field of view |
| IR-CA-PMUXCF | PyroMiniUSB USB infrared temperature sensor with close focus field of view |
GENERAL SPECIFICATIONS
Temperature Range: -20°C to 1000°C
Interface: USB
Accuracy: ±1% of reading or ±1ºC whichever is greater
Repeatability: ± 0.5% of reading or ± 0.5°C whichever is greater
Emissivity: 0.2 to 1.0
Response Time, t90: 125 ms (90% response)
Spectral Range: 8 to 14 μm
Supply Voltage: 5 V DC
Supply Current: 50 mA max.
Baud Rate: 9600 baud (other configurations available upon request)
Modbus Data Format: 8 data bits, no parity, 1 stop bit (other configurations available upon request)
Protocol: Modbus over Serial Line
Optics - Field of View
Since the outbreak of the Covid-19 pandemic, we have received a lot of interest in the use of our infrared temperature sensors for body temperature measurement.  These sensors are designed for industrial and laboratory surface temperature measurement.  They are not designed or certified for body temperature measurement or for medical use. Because of this IOThrifty does not warranty or guarantee their use in body temperature measurement applications
Reviews