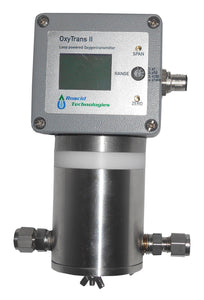 Inexpensive and Compact, User Friendly Adjustments
All Stainless Steel Flow-Through Housing
User Switchable Ranges
Sensor with Long Operating Life
IP65 Enclosure, Reverse Voltage Protection
Temperature Compensation
No Cross Sensitivity to H2
Zero Calibration for Measurement in Low PPM Range
4 Measurement Ranges in One
The two wire process oxygen analyzer, OXYTRANSII series, are a simple  and economical way to measure traces and % ranges of oxygen. The units have a simple display that offers one point calibration allowing for a quick start up. The measuring cell is modular and made of stainless steel. An expired measuring cell can be replaced by the end user without ever having to return the unit.
There are two types of units: one for the PPM range and three for the percent range. The PPM range, 0-10000 ppm, model OX-RO-OXYT-II-T and the percent range are offered in three different incremental ranges. First range is 0-0.25, 0-2.5 and 0-25%, model OX-RO-OXYT-II-P1, second range is 0-0.5, 0-5 and 0-50%, model OX-RO-OXYT-II-P2 and the third range is 0-1%, 0-10% and 0-100%, model OX-RO-OXYT-II-P3.
The OXYTRANS 4-20 mA loop powered oxygen transmitters use a special fuel cell to measure the oxygen concentration. The sensor meets the industrial requirements for accuracy, sensitivity and is easy to use for long operating life. The calibration of the series for trace oxygen measurements in gas must be done using  certified calibration gas. The concentration can be chosen freely within the measurement range. The % range can be calibrated with air and a zero set point is possible.
Applications for OXYTRANS 4-20 mA loop powered two wire oxygen transmitters are found in the semiconductor, gas manufacturer, metallurgical, chemical, heat treating and bright annealing industries.
 To Order the models below scroll to the top of the page and choose the desired model from the "Ranges" drop down menu, then ADD TO CART

| | |
| --- | --- |
|  PART NUMBER | RANGES |
| OX-RO-OXYT-II-T | 0-10, 0-100, 0-1000, 0-10000 ppm 02 |
| OX-RO-OXYT-II-P1 | 0-0.25, 0-2.5, 0-25% 02 |
| OX-RO-OXYT-II-P2 | 0-0.5, 0-5, 0-50% 02 |
| OX-RO-OXYT-II-P3 | 0-1, 0-10, 0-100% 02 |
 * Optional ATEX version available, please contact IOThrifty for details.

SPECIFICATION
Accuracy
+/- 2% FSD T=const.
+/-5% FSD 0>T>50C
General
Operating temperature: 0-50°C
Pressure: Max 10Bar(flow through)

Resolution: 0.1 ppm <0-100 ppm; 1 ppm at 0-1000, 0-10000 ppm, 0.1% for 25%
Response time: 90% FSD @ 25%; 0-10 ppm < 45 s; 0-100 ppm <20 s, 0-1000 ppm <10 s
Signal Output: 4-20 mA/DC
Digital: HART Communication
Alarm Value: 3.8 mA (Standard)
Voltage: 10-35 VDC, reverse voltage protection up to 24 VDC
Load: typ. 470 Ohm
Display: 6 digits, alphanumeric with bar graph
Oxygen Sensor: Micro-Fuel Cell
Housing: IP65
Process Connection: 1/4" tube
Size: 120 x 160 x 65mm (B x H x W)
Weight: 1.2 kg
Reviews