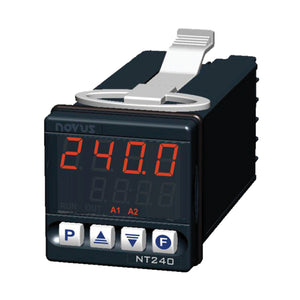 Input types: NPN/PNP Sensors; NO/NC Dry Contact
Outputs: 1 SPST Relay 3 A / 250 Vac (3 A / 30 Vdc); 1 Voltage Pulse 5 V / 25 mA
Response Time: 10 ms for the Relay Output and 0.3ms for the Pulse Output
Time Base: 7 Scales, from 99.99 Seconds to 9999 Hours
Dual 4-Digit Display
UP or DOWN Time Counting (Decimal or Hour: Minute: Second)
Silicone Rubber Keypad
CE and UL Certified
With a 4 digit display, this timer offers a relay output to be switched at pre-programmed intervals according to eleven different timing functions. The LED display shows the running time and the digital inputs execute start, hold and reset functions.

The timer shows the elapsed time in an increasing or decreasing mode, with resolutions from 0.01 s to 1 hour.

Digital inputs are available to perform specific functions. Standard outputs are relay and logic pulse (5 V) types.

TIMER INPUTS
The timer has three control inputs: START, HOLD and RESET
START: Starts time counting
HOLD: The HOLD input interrupts time counting. When the HOLD input is released, the time counting resumes from the point it was interrupted
RESET: The Reset input cancels the current count and returns the timer display to the initial value

TIMER OUTPUTS
The timer provides an output, which can be activated in various ways according to the selected timing mode. This output is available as a relay contact and as a voltage pulse (both operate simultaneously)

AUXILIARY SUPPLY OUTPUT
A 12 Vdc  auxiliary power supply is provided to power electronic sensors used as inputs to the timer

OPERATING MODES (please see the user manual for a description of each mode)

Delayed output following power on
Delayed pulse after power on
Pulse on power on
Cyclic output after power on
Pulse after momentary input signal
Extended pulse after release of the input signal
Delayed output after momentary signal in the input
Delayed pulse after momentary signal in the input
Pulse after continuous signal in the input
Delayed output following continuous input signal
Delayed pulse after continuous input signal
Special mode defined by the user
 To Order click on the part number(or scroll to the top of the page and select the power option) then  click on ADD TO CART button

| | |
| --- | --- |
|  PART NUMBER | DESCRIPTION |
| NT240 | NT240 - Programmable Timer, 100 to 240 Vac/dc power |
| NT240-24V | NT240 - Programmable Timer, 12 to 24 Vdc / 24 Vac power |
SPECIFICATIONS
Inputs: Sensors type NPN/PNP, Dry contact, Voltage pulse: Logic 1: 5 to 30 Vdc / Logic level 0: -0.5 to +0.5 Vdc

Outputs: Relay SPST – 3 A / 250 Vac,  voltage pulse 5 V / 25 mA

Time delay after turning on the timer: 200 ms

Accuracy: 0.5 % of displayed time

Response time: 10 ms for the relay output, 0.3 ms for the pulse output

Power: 100 to 240 Vac/dc (±10 %), 50/60 Hz

Optional 24 V: 12 to 24 Vdc / 24 Vac (-10 % / 20 %)

Auxiliary Voltage Source: 12 Vdc ±10 % / 50 mA

Operating Temperature: 5 to 50 °C

Relative Humidity: Relative humidity maximum: 80 % up to 30 °C, for temperatures above 30 °C, decrease 3 % per °C.

Electromagnetic Compatibility: EN 61326-1:1997 and EN61326-1/A1:1998

Approvals: CE and UL

Dimensions: 48 x 48 x 110 mm (1/16 DIN), Approximate weight : 150 g

Panel Cutout :45.5 x 45.5 mm (+0.5 -0.0 mm)
Reviews