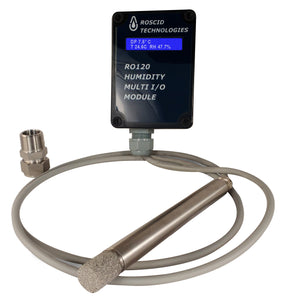 Roscid RO120-DIS Sensor with Electronics Unit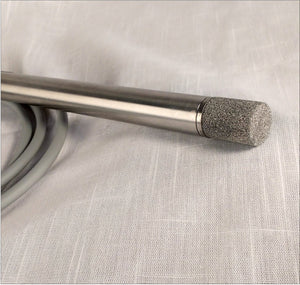 RO120-DIS Stainless Steel Sensor Probe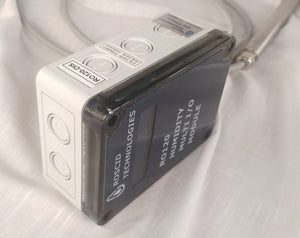 Side View of Electronic Base Unit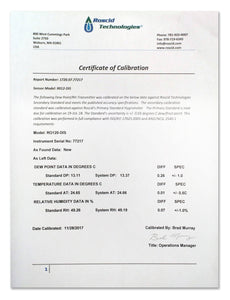 NIST Traceable Calibration Certificate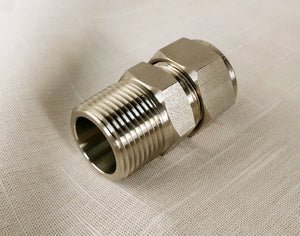 NPT Mounting Fitting for Probe
Precision ±0.5°C Temperature Accuracy
±1% Relative Humidity (RH) Accuracy
Three 4-20mA outputs, 2 Programmable Alarm Relays and a RS232 Programmable Output
Industrial Grade Sensor with Temperature Range from -20°C to 120°C
Corrosion Resistant Stainless Steel Sensor
Dual Line LCD Display
The RO120-B-DIS temperature, barometric pressure and humidity transmitter provides fast, high accuracy measurements for use in a wide range of industrial and laboratory applications. This instrument features three 4-20 mA analog outputs, one for each of  the three measurement parameters (temperature, relative humidity and barometric pressure) as well as a bi-directional digital RS232 output and  2 programmable alarm relays. 
This precision instrument includes a stainless steel probe with integral sensor for remote mounting.  The probe attaches via an included 6 foot cable to  the  base electronic unit The remote probe has a wide temperature range of -20°C to 120°C and is resistant to most chemicals. It can be mounted into most applications with the included 3/4 inch NPT fitting and also features a sensor tip which can be replaced in the field without re-calibration.  The electronic base unit has a two line LCD display and houses all signal terminal connectors.
This transmitter is ideally suited for many different applications such as environmental chambers, compressed air, furnace and industrial applications. 
This item includes a base electronic unit, remote stainless steel probe with  6 foot cable, 3/4 inch NPT fitting,  NIST traceable certificate of calibration, user manual on CD and quick start guide.
SPECIFICATIONS
Ranges (sensor)
Air Temperature :-20 to +120°C
Relative Humidity : 5 TO 95% (non-condensing)


Accuracy
Air Temperature :±0.5°C
Relative Humidity : ±1%
General
Speed of Response: 12 Seconds ( that is T63, 0 to 90%)
Cable Length: 6 feet, for other lengths contact factory
Probe Length: 8 inch (20.3cm)
Probe Material: 316 stainless steel
Filter: Sintered filter top, removable, field replaceable
Sensor: Polymer-capacitive
Fitting: Adjustable ¾ NPT
Connections: Screw terminals, Wire (20-24awg)
Power Requirement: 18 to 30 Vdc, unregulated, 200 mA max
Compliance/Certifications
ROHS, CE
Manufacturer's Model Number
Manufactured in the USA by Roscid Technologies RO120-B-DIS


Reviews