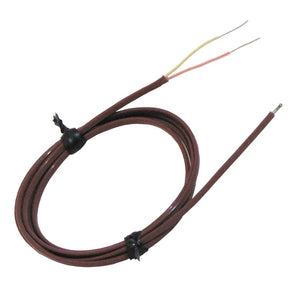 WTC-TT-K-20-40 Type K Beaded Wire Thermocouple with Stripped Leads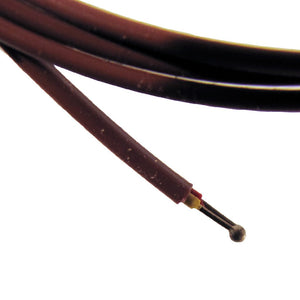 Closeup View of Thermocouple Bead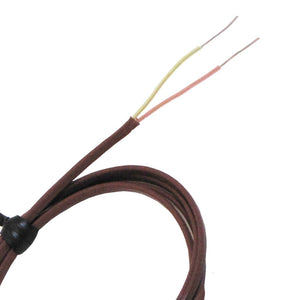 Stripped Leads Make for Easy Connection to Screw Terminals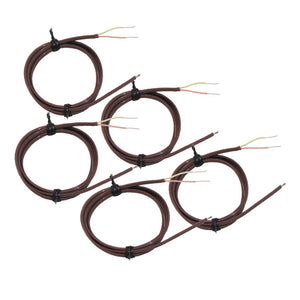 Available in an Economical Five Pack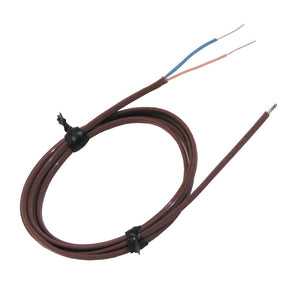 24 AWG Wire with PFA Insulation
Type K or T Thermocouple Calibration
40 or 72  Inches Long
Stripped Leads for Easy Connection to Screw Terminals
Temperature Range: -73 to 260°C (-100 to 500°F)
The WTC-SL is a beaded wire thermocouple with PFA (a polyfluromer) insulation and stripped leads. This is a basic general purpose style of thermocouple well suited for temperature measurement of air or other gases. 

Made from 24 awg wire these thermocouples offer a quick response time with a time constant of about 1.2 seconds in fast moving air. 

The WTC-SL is available in K thermocouple calibration (made from Nickel-Chromium/ Nickel-Alumel alloy ) or T (made Copper/Constantan) both thermocouples have PFA wire insulation which limits the usable temperature range to -73 to 260°C (-100 to 500°F).
The thermocouple terminates in stripped leads which is ideal for connection to instruments with screw terminal connectors. The length of the thermocouple is 40 or 72 inches but can be extended with thermocouple extension wire. Thermocouple wire lengths of 100 feet or more are not uncommon but the longer lengths may introduce some application issues. Please feel free to contact IOThrifty's technical support to discuss your thermocouple application.
 To Order the models below scroll to the top of the page and choose the desired model from the "Pack Size" drop down menu, then ADD TO CART

| | |
| --- | --- |
| Model No. |  Description |
| 40 Inch Length Thermocouples | |
| WTC-TT-K-24-40-SL | K Type, Insulated Beaded Wire Thermocouple with Stripped Leads, Single Thermocouple, 40 Inch Length |
| WTC-TT-T-24-40-SL | T Type, Insulated Beaded Wire Thermocouple with Stripped Leads, Single Thermocouple |
| 72 Inch Length Thermocouples | |
| WTC-TT-K-24-72-SL | K Type, Insulated Beaded Wire Thermocouple with Stripped Leads, Single Thermocouple, 72 Inch Length |
| WTC-TT-T-24-72-SL | T Type, Insulated Beaded Wire Thermocouple with Stripped Leads, Single Thermocouple, 72 Inch Length |
SPECIFICATIONS
Thermocouple Type: K or T (model dependent)
Length: 40 or 72  inches (model dependent)
Wire gauge: 24 AWG
Temperature Range: -73 to 260°C (-100 to 500°F)
Accuracy Type T: ±1°C or ±0.75% of reading (whichever is greater)
Accuracy Type K: ±2.5°C or ±0.75% of reading (whichever is greater)
Insulation: PFA (Perfluoroalkoxy alkanes- a commonly known PFA formulation is Teflon®)

Reviews