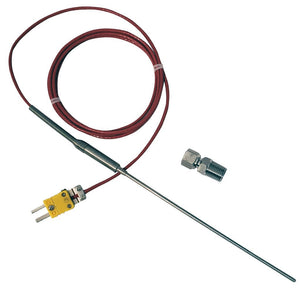 TJ-K Rugged Transition Joint Thermocouple Probe with Mounting Fitting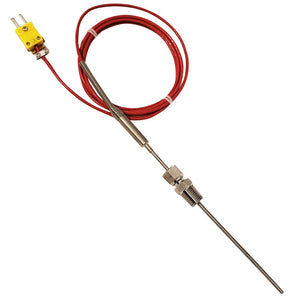 TJ-K Rugged Transition Joint K Thermocouple Probe with Fitting on Probe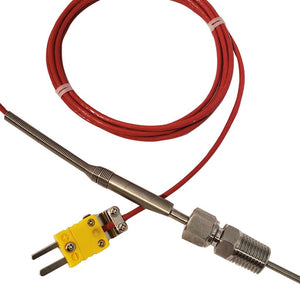 TJ-K Rugged Transition Joint Thermocouple Probe
T Thermocouple Probe with Male Connector
K Thermocouple Probe with Stripped Leads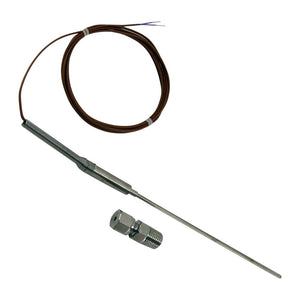 K (Chromel/Alumel Type  or T (Copper/Constantan) Thermocouple

6 Inch (152 mm) Long Probe with 1/8 inch (3 mm) Diameter

72 Inch (1.830 mm) Lead Wire Terminating in Miniature Male Thermocouple Connector or Stripped Leads

Temperature Rating : 600°C (1,100°F) for Type K Thermocouple

Temperature Rating 370°C (700°F) for Type T Thermocouple
Includes Adjustable Stainless Steel Mounting Fitting
Ungrounded Junction

The TJ series are thermocouple probes with stainless steel sheath and ungrounded junction. The probes are available in type K and type T thermocouples.  This probe features a 304 stainless steel sheath, a heavy duty transition joint which connects the probe to the lead wires and 72 inches of lead wire which terminates in  either an industry standard male plug-type thermocouple connector or stripped leads.

This probe is well suited for industrial environments. The ungrounded junction of the probe isolates the thermocouple element inside the probe from the outer sheath wall of the probe making it resistant to ground loops often found in industrial environments. The rugged transition joint with spring wire strain relief makes for a highly mechanically sound connection between the wire and the probe.

Two termination options are available.  Either an industry standard male type thermocouple connector for quick connection to many thermocouple instruments or stripped leads.
Included with the probe is an adjustable and removable stainless steel mounting fitting. The "compression type fitting" can be moved along the length of the probe to set the insertion depth of the probe into the process or the fitting may be completely removed if desired.
.
 To Order, click on the model number link or scroll to the top of the page and  ADD TO CART

| | |
| --- | --- |
| Model No. |  Description |
| 6 Inch Probe Lengths | |
| TJ-K-6-18U-72-M-FT | Rugged Transition Joint Mineral Insulated Type K Thermocouple Probe with Connector, 6 Inch Probe Length |
| TJ-T-6-18U-72-M-FT | Rugged Transition Joint Mineral Insulated Type T Thermocouple Probe with Connector, 6 Inch Probe Length |
| TJ-K-6-18U-72-SL-FT | Rugged Transition Joint Mineral Insulated Type K Thermocouple Probe with Stripped Leads, 6 Inch Probe Length |
| TJ-T-6-18U-72-SL-FT | Rugged Transition Joint Mineral Insulated Type T Thermocouple Probe with Stripped Leads, 6 Inch Probe Length |
| 12 Inch Probe Lengths | |
| TJ-K-12-18U-72-M-FT | Rugged Transition Joint Mineral Insulated Type K Thermocouple Probe with Connector ,12 Inch Probe Length |
| TJ-K-12-18U-72-SL-FT | Rugged Transition Joint Mineral Insulated Type K Thermocouple Probe with Stripped Leads,12 Inch Probe Length |
SPECIFICATIONS
Thermocouple Type: K or T
Temperature Rating: 600°C (1,100°F) for type K, 370°C (700°F) for type T
Probe Sheath Material: 304 Stainless Steel
Probe Diameter: 3mm (1/8inch)
Probe Length: 152mm (6 inches)
Thermocouple Junction: Ungrounded (thermocouple element is insulated from sheath wall)
Lead Wire Length: (Includes transition joint): 1,830mm (72 inches)
Lead Wire Insulation: PFA
Lead Wire Termination: Miniature Male thermocouple connector with strain relief (may be removed for stripped leads)
Mounting Fitting: Included, 1/8"NPT, stainless steel
Reviews