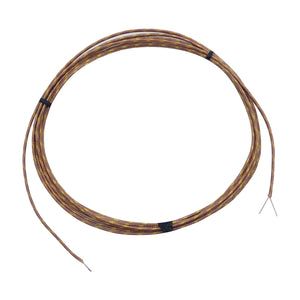 K Type Thermocouple
24 AWG Wire with Braided Glass Insulation
40 or 72  Inches Long
Stripped Leads Termination

Temperature Range:32 to 900°F(0 to 482°C)

The WTC-GG-24-SL is a beaded wire thermocouple with braided glass (fiberglass) insulation which a miniature connector. This is a basic general purpose style of thermocouple well suited for temperature measurement of air or other gases.

Made from 24 awg wire these thermocouples offer a quick response time with a time constant of about 1.2 seconds in fast moving air.

The WTC-SL is available in K thermocouple calibration (made from Nickel-Chromium/ Nickel-Alumel alloy) and has a temperature range of 32 to 900°F(0 to 482°C) .

The thermocouple terminates in stripped leads which makes it easy to connect to and instrument with screw terminals.

.
To Order the model below click on the link or scroll to the top of the page then click on ADD TO CART button

| | |
| --- | --- |
| PART NUMBERS | DESCRIPTION |
| WTC-GG-K-24-40-SL | Type K Glass Insulated 24 AWG Beaded Wire Thermocouple with Stripped Leads Termination, 40 Inch Length |
| WTC-GG-K-24-72-SL | Type K Glass Insulated 24 AWG Beaded Wire Thermocouple with Stripped Leads Termination, 40 Inch Length, 72 Inch Length |


SPECIFICATIONS

Thermocouple Type: K
Length: 40 or 72 inches
Wire gauge: 24 AWG
Temperature Range: 32 to 900°F(0 to 482°C)
Accuracy:  ±2.5°C or ±0.75% of reading (whichever is greater)
Insulation: Braided fiberglass
Termination: Stripped Leads
Reviews