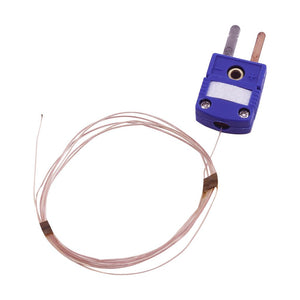 36 AWG Wire with PFA Insulation
Type T Thermocouple Calibration
40 or 108 Inches Long
Miniature Male Connector

Temperature Range: -70 to 160°C (-90to 320°F)
The WTC-TT-T-36 is a 36 AWG beaded wire thermocouple with PFA (a polyfluromer) insulation and miniature male connector termination. The 36 AWG fine wire and  small welded bead provides fast response times.
The WTC-TT-T-36 is available in T thermocouple calibration (made Copper/Constantan) with PFA wire insulation.

The length of the thermocouple is 40 or 108 inches but can be extended with thermocouple extension wire. 
 To Order the models below scroll to the top of the page and choose the desired model from the "Pack Size" drop down menu, then ADD TO CART

| | |
| --- | --- |
| Model No. |  Description |
| WTC-TT-T-36-40-MP | T Type, Insulated Beaded Wire Thermocouple with  Miniature Male Connector, 40 Inch Length |
| WTC-TT-T-36-108-MP | T Type, Insulated Beaded Wire Thermocouple with Miniature Male Connector, 108 Inch(9 ft) Length |
SPECIFICATIONS
Thermocouple Type: T
Length: 40 or 108 inches (model dependent)
Wire gauge: 36 AWG
Temperature Range: -70 to 160°C (-90 to 320°F)
Accuracy Type T: ±1°C or ±0.75% of reading (whichever is greater)
Insulation: PFA (Perfluoroalkoxy alkanes- a commonly known PFA formulation is Teflon®)

Reviews