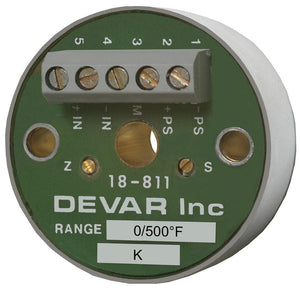 FM Approved, Intrinsically Safe, Two Wire Thermocouple Transmitter - Devar Model 18-811IS
FM Approved, Intrinsically Safe
T/C Input (Choose T/C Type & Range)
Factory Calibrated
+/- 0.1% Accuracy
Low Cost
Ships in 1 Week for Fast and FREE Delivery

Conversion of thermocouple from field sensors may be accomplished using the DEVAR Model 18-811IS series of connection head mount, signal transmitters. The 18-811IS's compact size allows it to mount directly within thermocouple connection heads, providing a 4/20 mA output signal proportional to the milli-volt input signal.
Operational errors are eliminated by mounting the amplifier close to the thermocouple within the connection head. These errors, due to multiple TC cold junction connections, noise pickup, and possible voltage drops are not encountered because a stable 4/20 mA signal is transmitter directly from the TC assembly.
Each unit is supplied precalibrated to standard temperature ranges for thermocouple signals. Utilization of multi-turn trimmers for span and offset calibration (±25% adjustment) enable precise 0.1% calibration.
Typical applications include installation within existing thermocouple connection heads where noise problems persist. The transmitter simply replaces the TC terminal block in the head.
Each unit carries Factory Mutual Approval, Intrinsically Safe for Class 1, Division 1, Groups A, B, C, and D and non-incendive Class 1, Division 2, Groups A, B, C, and D. Their low cost and rugged industrial design also makes them desirable for use in HVAC installations where reliable heating, cooling water, duct, or ambient temperature measurements are required.
 To Order the models below scroll to the top of the page and choose the desired model from the "T/C TYPE & RANGE" drop down menu, then ADD TO CART

| | |
| --- | --- |
|  PART NUMBER | T/C TYPE & RANGE |
| TX-DE-18-811IS-T/0-200F | T   0-200 °F |
| TX-DE-18-811IS-E/0-200F | E   0-200 °F |
| TX-DE-18-811IS-J/0-200F | J   0-200 °F |
| TX-DE-18-811IS-K/0-200F | K   0-200 °F |
| TX-DE-18-811IS-T/0-300F | T   0-300 °F |
| TX-DE-18-811IS-E/0-300F | E   0-300 °F |
| TX-DE-18-811IS-J/0-300F | J   0-300 °F |
| TX-DE-18-811IS-K/0-300F | K   0-300 °F |
| TX-DE-18-811IS-T/0-500F | T   0-500 °F |
| TX-DE-18-811IS-E/0-500F | E   0-500 °F |
| TX-DE-18-811IS-J/0-500F | J   0-500 °F |
| TX-DE-18-811IS-K/0-500F | K   0-500 °F |
SPECIFICATIONS
THERMOCOUPLE INPUT
Standard Range TC Type
0 to 200°F T, E, J, K
0 to 300°F T, E, J, K
0 to 500°F T, E, J, K
0 to 750°F E, J, K
0 to 1000°F E, J, K 
OUTPUT
Range: 4 to 20 mADC
Limit: 2.5 to 28 mA
Load: RLmax = (VSUPPLY – 10)/0.02
Load Effect: ±0.05% per 300 Ohm
ACCURACY: ±0.1% F.S., includes effects of Hysteresis, Linearity, and Repeatability
AMBIENT TEMPERATURE RANGE: -25° to 85°C (-13° to 185°F)
AMBIENT THERMAL CHANGE EFFECT: ±0.02% / °C (±0.01% / °F)
STORAGE TEMPERATURE RANGE: -65° to 125°C (-85° to 257°F)
SUPPLY VOLTAGE: 10 to 44 VDC
MAX CHANGE: = ±0.01% per Volt Variation
RFI: Protected from 20 MHz to 500 MHz per SAMA PMC 33.1-1978, 2 abc
Reviews