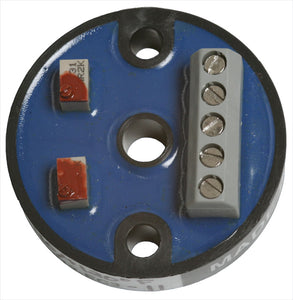 4-20 mA Output
Low Cost, 100 Ohm Pt, alpha = 0.00385
RTD or Potentiometer
Thermo-Head Installation
Non-Isolated
0.1% Accuracy
Class 3-C RFI Immunity
Factory Calibrated
Low 8.5 VDC Drop
Ships in 1 Week for Fast and FREE Delivery

Conversion of RTD signals is accomplished using SM812EC series signal transmitters. Surface mount technology provides a slim profile allowing the series to mount directly within mininature thermal connection heads. The series accommodates Pt 100 Ohm RTDs and provides a 4-20 mA output current proportional to the detected temperature.
SM812EC series is available in -40 to 120F and 0 to 200F precalibrated temperature ranges. The span and zero potentiometers  provide span and zero adjustments of +/- 25% of the normal range.
 To Order the models below scroll to the top of the page and choose the desired model from the "Temperature Range" drop down menu, then ADD TO CART

| | |
| --- | --- |
|  PART NUMBER | DESCRIPTION |
| TX-DE-SM812EC-0011 | RTD Transmitter Temp Range -40 to 120F |
| TX-DE-SM812EC-0012 | RTD Transmitter Temp Range 0 to 200F |
SPECIFICATIONS
ACCURACY
+/- 0.1% span, includes effects of linearity, hysterisis, and repeatability referred to temperature input
NONLINEARITY
0.1% relative to a  100 Ohm Pt RTD, alpha = 0.00385 standard curve for nominal range. 4:1 minimum improvement on nonlinearity otherwise
THERMAL EFFECT
1) Zero Shift of +/- 0.02% /Span/F
2) Span Shift of +/- 0.02% /Span/F
CIRCUITRY: epoxy encapsulated, analog circuitry w/sealed potentiometers
POWER SUPPLY: working voltage of 8.5-35 VDC, supply voltage effect <+/- 0.001% /Span/Volt
LOOP CONSIDERATIONS
1) loop resistance load effect <+/-0.002% Span/300 Ohms
2) maximum loop resistance (V supply -8.5V)/20 mA
RFI IMMUNITY: rated class 3-C: 0.25% of span per SAMA PMC 33.1-1987-2abc
FREQUENCY RESPONSE: output -3dB @ 3db @ 3Hz input
TEMPERATURE RANGE: ambient -13 to 185F, storage -85 to 257F
HUMIDITY: 0 to 95% noncondensing
INPUT: 100 Ohms Pt RTD, alpha = 0.00385
OUTPUT
1) signal range: 4 to 20 mADC
2) absolute limit: 2 to 29 mA
3) open RTD indication: output > 22mA
CALIBRATION RANGE ADJUSTABILITY:
1) zero 25% of normal span
2) Span 25% of normal span
Reviews