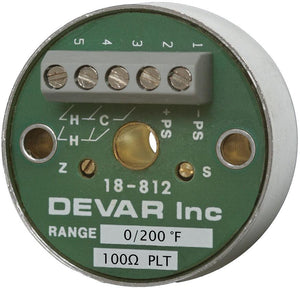 FM Approved, Intrinisically Safe, Two Wire Wire RTD Transmitter - Devar Model 18-812IS
RTD Input, 100 Ohm, Pt 0.00385
FM Approved, Intrinsically Safe
Non-Isolated
+/- 0.1% Full Scale Accuracy
Factory Calibrated
Mounts In Standard RTD Connector Head
Fully RFI Protected
18-812IS series of  signal transmitters provide accurate and reproducible conversion of RTD signals to 2-wire 4/20 mA outputs.
Their small size allows easy, space saving mounting in most standard RTD connection heads. This provides a compact mounting assembly located at the point of measurement. Operational errors due to noise pickup and leadwire resistance errors are virtually eliminated. This assures a stable 4/20 mA output signal transmitted directly from the measuring source.
Each transmitter is supplied pre-calibrated to standard temperature or resistance ranges. Accessible multi-turn trimmer pots provide for a ±25% zero and span adjustment and allow for precise 0.1% F.S. calibration.
RFI protection meeting SAMA PMC 33.1-1978- 2 abc requirements is achieved by unique input and output signal filtering. Further protection is provided by the use of a metal housing.
A linearizing circuit is built into all standard range units. This allows the output current to be proportional to the sensed temperature within a linearity of ±0.1% F.S. plus 4:1 improvement of non-linearities normally encountered in the RTD curve.
Typical applications include temperature measurements from within an existing or newly installed thermal connection head in most industrial environments. Also, its small size makes these transmitters ideal for high density SnapTrack or surface mounting for either temperature or variable resistance measurements in general purpose applications.
These units carry Intrinsically Safe Approval from Factory Mutual for Class I, Division 1, Groups A, B, C & D. Their low cost and rugged industrial design also makes them desirable for use in HVAC installations where reliable heating, cooling water, duct or ambient temperature measurements are required.
 To Order the models below scroll to the top of the page and choose the desired model from the "Temperature Range" drop down menu, then ADD TO CART

| | |
| --- | --- |
|  PART NUMBER | TEMP RANGE |
| TX-DE-18-812IS-10/-40-120F | -40 to 120°F |
| TX-DE-18-812IS-11/0-200F |     0 to 200°F |
| TX-DE-18-812IS-12/0-300F |     0 to 300°F |
| TX-DE-18-812IS-13/0-500F |     0 to 500°F |
| TX-DE-18-812IS-14/0-750F |     0 to 750°F |
| TX-DE-18-812IS-15/0-1000F |     0 to 1000°F |
SPECIFICATIONS
INPUT
RTD, Standard Ranges, Linearized to Temperature 100 Ohm Platinum RTD α = 0.00385 
    From                 To
ACCURACY: ±0.1% F.S., includes effects of Linearity, Hysteresis, and Repeatability referred to millivolt input.
OUTPUT
RANGE: 4 to 20 mA DC
LIMIT: 3.4 to 27 mA DC
LOAD RESISTANCE: RL = (Vsup. - 11)/20 = K Ohms
LOAD EFFECT: ±0.05% per 300 Ohms
AMBIENT TEMPERATURE RANGES: -25° to 185°F
AMBIENT THERMAL CHANGE EFFECT
Zero Shift: ±0.01% / °F of Span
Span Shift: ±0.01% / °F of Span
STORAGE TEMPERATURE RANGE: -85° to +248°F
SUPPLY VOLTAGES: 11 to 44 VDC
POWER SUPPLY EFFECT: 0.01% of span per volt variation
RFI PROTECTION: rated Class 3-C: 0.25% of span per SAMA PMC 33.1 - 1987 - abc
CALIBRATION RANGE: zero: ±0.25% of full scale span: ±0.25 of full scale
POWER SUPPLY EFFECT: ±0.01% output span/volt
Reviews