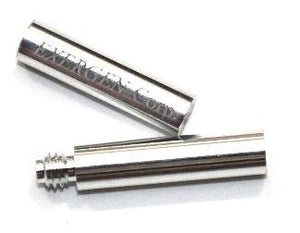 Small Size - 3/8" dia. x 3" long (9.5 x 76 mm)
Aluminum housing
Attaches to standard 3/8" tube fitting or 3/8" ID tubing
Air purge and cooling

This convenient and inexpensive kit makes it possible to use the micro IRt/c™ with air for service in harsh environments. Measuring only 3/8" x 3" (9.5 x 76 mm) overall, the APJ-1 is physically small enough to fit into tight areas and closely monitor process temperatures from the optimum position - up close. This air purge kit ensures that the performance of a micro IRt/c does  not degrade because of contamination by deposits of airborn chemicals or particles on the sensor.
Efficient in design, the APJ-1 requires as little as 3.5 SCFH (1.7 L/min) of air  to protect a microIRt/c. In addition to keeping a micro IRt/c clean, the airflow  through the air purge jacket can cool a micro IRt/c, allowing it to operate in environments of up to 347°F (175 °C) with only 35 SCFH
(17 L/min) at 5 psig (0.33 bar).
Compatible with Exergen's Micro UIRT/C Series of Self Powered K Type Infrared Thermocouples.
Reviews