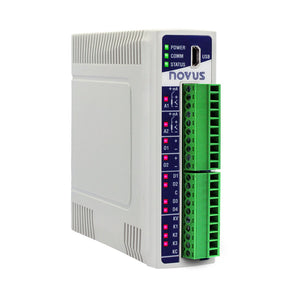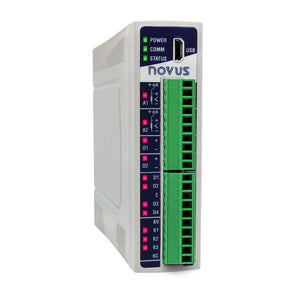 DigiRail Connect - RAMIX-DO
DigiRail Connect - DMIX-RL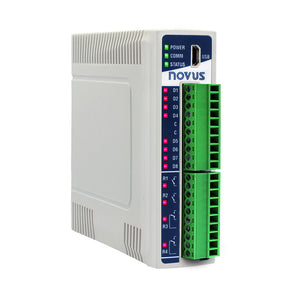 DigiRail Connect - DMIX-RL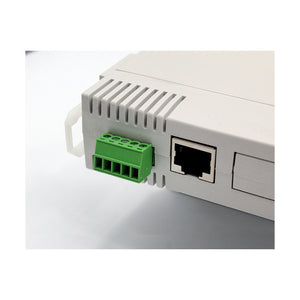 DigiRail Connect - RS485 and Ethernet Ports
2 Analog Inputs (RAMIX Versions) - Thermocouples J, K, T, N, E, R, S and B, Pt100, Pt1000, NTC, 0-60 mV, 0-5 Vdc, 0-10 Vdc, 0-20 mA, 4-20 mA
2 Analog Outputs (RAMIX Versions) - 0-20 mA, 4-20 mA, 0-10 V
4 or 8 Digital Inputs (model dependent)
Digital/Relay Outputs (model dependent)
Ethernet, RS485 and USB Communication
The DigiRail Connect is a versatile DIN rail I/O module with Ethernet, RS485 and USB interface which can be easily integrated to any automation system. With a flexible mix of industry-standard inputs and outputs, it performs  analog and digital signal handling with outstanding accuracy.  Bringing the Industry 4.0 to the DIN rail level, the connectivity of DigiRail Connect allows it to be used as a Modbus RTU slave in RS485 networks or as a Modbus TCP server over Ethernet. Specially designed to comply with international electromagnetic compatibility standards, it ensures robustness and reliability in the most demanding industrial applications. 

Universal Analog Inputs
The RAMIX-DO and RAMIX-RL have two universal  analog inputs which are software programmable for input type.  The two inputs are electrically insulated from the serial interface and the module power supply.  Features include:

Analog inputs: programmable for thermocouples J, K, T, N, E, R, S , B,   Pt100, Pt1000, NTC, 0-60 mV, 0-5 Vdc, 0-10 Vdc, 0-20 mA, 4-20 mA
Cold junction compensation for thermocouples and compensation for Pt100, PT1000 3-wire cables
Open loop detection for thermocouple
10 Sample/sec sample rate
 Analog input resolution: 16 bits
Programmable filter
Analog Outputs
The RAMIX-DO and RAMIX-RL also have two analog outputs. Features include:

Configurable ranges of 0-20 mA, 4-20 mA, 0-10 V
Settable power on state level
Safe Value Watchdog - Allows you to set a value for the analog output in case of loss of communication.
12 bit resolution
Digital Inputs
All DigiRail Connect modules have digital inputs.  The DMIX models have 8 digital inputs and the RAMIX models have 4 digital inputs. Features include

Programmable Measurement Function

Logic Status
Rising or Falling Edge  Counter (up to 250Hz for PNP or NPN, 10HZ for dry contact closure)

Integrator (counts time in seconds when triggered by logic status)
Programmable Signal Type

Dry Contact with programmable debounce time
NPN
PNP

Preset - allows an initial value to be set for the Rising Edge, Falling Edge, and Integrator ON/OFF counters.
 Digtial and Relay Outputs
The RAMIX-DO has 3 digital outputs and the DMIX-DO has 8 digtial outputs.  The RAMIX-RL has 2 relays and the DMIX-RL has 4 relays. Digital Output/Relay Features include:

Programmable Actuation Mode

Logical Status
Pulse - The output will turn on for a specific time interval (set in the Pulse Duration parameter) and then return to the OFF status
Pulse Train - The  output will create a defined number of pulses (set in the Number of Pulses parameter), with a defined duration (set in the Pulse Duration parameter) and in a defined period (set in the Repetition Period parameter).

Power On State
Safe Status Watchdog - Allows the output state to be set in case of communication failure
Ethernet, RS485 and USB Communication
All of the DigiRail Connect have Ethernet and RS485 communications.  The Ethernet connection uses Ethernet TCP protocol and the RS485 uses Modbus RTU protocol.  You can configure DigiRail Connect to operate in Gateway mode between a Modbus-TCP network and a Modbus RTU network.  The DigiRail Connect also has a USB port which is ideally intended for configuring and diagnosing the monitored process.

Software

NXperience - Configuration, Data Collection and Diagnostic Software (Free Download)
NXperience is a free configuration, data collection and diagnostic software for NOVUS wireless transmitters and data loggers. This program allows you to explore all the features and details of the DigiRail Connect, and communicates through USB interface, TCP-IP and RS485 Interface.

The NXperience allows configuration of the device and download of the data.  It  provides diagnostic tools which facilitates setup, operation, maintenance and trouble shooting of the device.


.
FieldChart Supervisory and Data Acquisition Software (Lite version available as a free download)

FieldChart is a software used for monitor and register data acquired from NOVUS products. It generates real time trends and data lists that can be exported in usable formats like a spread sheet. There are two versions available: FieldChart-Lite and FieldChart-64C. The FieldChart-Lite can register 8 simultaneous channels and it is available for free. The FieldChart-64C can register up to 64 simultaneous channels.
 To Order the model below scroll to the top of the page then  click on ADD TO CART button

 PART NUMBER
DESCRIPTION
RAMIX-RL
DigiRail Connect with 2 Analog In, 2 Analog Out, 4 Digital In, 2 Relays
RAMIX-DO
DigiRail Connect with 2 Analog In, 2 Analog Out, 4 Digital In, 3 Digital Outputs
DMIX-RL

DigiRail Connect with 8 Digital In, 4 Relays
DMIX-DO

DigiRail Connect with 8 Digital In, 8 Digital Outputs
Accessories
CAB-USB-MICROB-3
Micro USB 2.0 Cable, Type A to Micro B, 3ft (used for USB communication with the DigiRail Connect)

USB-i485
Isolated USB to RS485/RS422 Converter
SPECIFICATIONS

Input Channels
  RAMIX Models: 4 Digital and 2 Analogs
  DMIX Models: 8 Digital

Output Channels
  RAMIX Models: 3 Digital or 2 Relays and 2 Analogs
  DMIX Models: 4 Relays or 8 Digital

Analog Inputs
Input Ranges: Thermocouples J, K, T, N, E, R, S e B, Pt100, Pt1000, NTC, 0-60 mV, 0-5 Vdc, 0-10 Vdc, 0-20 mA, 4-20 mA

Accuracy
  Thermocouples: 0.2 % of maximum range
  Pt100, Pt1000, NTC, mA, V, mV: 0.15 % of the maximum range
  Thermocouple Cold Junction Error: ± 1 °C / ± 1.8 °F (J,K,T), ± 3 °C / ± 5.4 °F (N, E, R, S, B)

Analog Input Impedance
  0-60 mV, Pt100, Pt1000, NTC and thermocouples : >10 MΩ
  0-5 V, 0-10 V: >1 MΩ
  4-20 mA: 15 Ω + (1 V @ 20 mA)

Pt100 Maximum Compensated Cable Resistance: 20Ω
Pt100 Excitation current: 0.60 mA
Resolution: 16 bits (65536 levels)

Digital Input
Logical Levels: Logical Level "0": < 0.5 V, Logical Level "1": > 3 V
Maximum Voltage: 30 V
Input Impedance: 270 kΩ
Input Current @ 30 Vdc: 0.15 mA(typical)

Maximum Frequency (square wave)
  Dry Contact: 10 Hz
  PNP: 250 Hz
  NPN: 250 Hz

Minimum Pulse Duration
  Dry Contact: 50 ms
  PNP: 4 ms
  NPN: 4 ms

Transistor Digital Output
  Output Type: Sourcing
  Maximum Load Current: 500 mA
  Short-circuit Current: 70 mA
  Maximum Switching Voltage: 30 Vdc
  Minimum Switching Voltage: 6 Vdc

Relay Digital Output
  Type: SPST-NO and SPDT
  Maximum Load Current: 3 A (SPST) / 6 A (SPDT)
  Switching Voltage: 250 Vac
  Suitable for resistive loads

Analog Output
  Signal Types: 0-20 mA, 4-20 mA, 0-10 V
  Maximum Load: 0-20 / 4-20 mA: = 500 Ohms, 0-10 V: = 2000 Ohms
  Resolution: 12 bits
  Accuracy: 0.5 %

Communication Interfaces
  USB
  Ethernet: 10/100 Mb/s, IEEE standard 802.3u
  RS485

Power Supply
  Voltage: 10 Vdc to 36 Vdc
  Maximum Consumption: 5 W
  Typical Consumption: 20 mA

Operating Temperature: -20 to 60 °C
Operating Humidity: 5 to 95 % RH, non-condensing
Housing: ABS+PC
Protection Rating: IP2O
Dimensions: 100 x 30 x 110 mm

Reviews