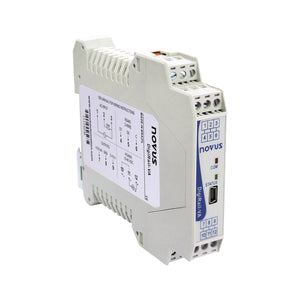 Measures

Voltage: 0 to 300 Vac (True-RMS)
Current: 0 to 5 Aac (True-RMS) - Allows CTs for higher current applications
Active power, Reactive Power and Apparent Power
Power Factor: 0.00 to 1.00
Frequency: 45 to 65 Hz

4-20mA and/or 0-10V Analog Output
RS485 Modbus-RTU Communications Allows Access to All Parameters
Free Downloadable Monitoring Software for RS485
Free Downloadable Software for USB Configuration
2500 Vac Isolation (/ 1 minute) Between Inputs and Outputs/Communications/Power
The DigiRail-VA is the latest addition to the successful and cost effective DigiRail family. Specifically designed for single phase AC power analysis applications, it is able to measure the most important AC signals and re-transmit them in both analog and digital signals.

4-20 mA  and 0-10Vdc Analog Outputs
There is both a 4-20 mA and 0-10Vdc analog output that can be used to transmit any of the measures in the AC inputs including:
• RMS Voltage
• RMS Current
• Active Power
• Apparent Power
• Reactive Power
• Power Factor
• Frequency

The outputs are fully scaleable via software and may also be enabled or disabled via software.  The outputs may also be set for a specified value on an error condition.

RS485
The RS485 interface of DigiRail-VA uses 3-wire communication (including the common) and operates as a Modbus RTU slave.  The measured values and configuration parameters may be read through the RS485 interface.  Operating parameters may also be set via RS485.

USB Interface
DigiRail-VA has a USB device interface, used for configuration and monitoring. The Windows operating system will detect the device as a virtual serial port, allowing the use access as a standard Windows COM port.


Software
DigiConfig Software

DigiRail-VA Configuration is done via the USB or RS485 interface  by using Modbus RTU commands. The free DigiConfig software, available as a download, allows for configuration of all DigiRail features as well as complete calibration and diagnosis. It automatically detects active devices in the Modbus network and permits configuration of all parameters.


FieldChart Supervisory and Data Acquisition Software (Lite version available as a free download)

FieldChart is a software used for monitor and register data acquired from NOVUS products. It generates real time trends and data lists that can be exported in usable formats like a spread sheet. There are two versions available: FieldChart-Lite and FieldChart-64C. The FieldChart-Lite can register 8 simultaneous channels and it is available for free. The FieldChart-64C can register up to 64 simultaneous channels
.
 To Order the model below scroll to the top of the page then  click on ADD TO CART button

| | |
| --- | --- |
|  PART NUMBERS | DESCRIPTION |
| DigiRail-VA | Dual Channel Universal Analog Input Module |
| Accessories | |
| USB-i485 | Isolated USB to RS485/RS422 |
| PSJ-R-WA24V24W | Regulated Wall Mount Power Supply, 24 VDC, 1 Amp, 24 Watt |
| PSJ-U-DR24V24W | DIN rail mount power supply, 24 VDC, 1 Amp, 24 Watt |
 
SPECIFICATIONS
Power Supply: 10 to 40 Vdc.
Max Power Consumption: approx. 40 mA @ 24 V; plus 20 mA when you used a 4-20 mA output.
Polarity Protection: Internal protection against polarity inversion of the power supply voltage.
Wire Size: AWG 28 to 12.
Voltage Input Range: 0 to 300 Vac (RMS).
Current Input Range: 0 to 5 Aac (RMS).
Frequency Input Range:  45 to 65 Hz.
Analog Outputs: 4-20 mA and 0-10 V.
Analog Output Rangeability: 10:1. smaller range, but with accuracy loss.
RS485 Serial Interface: Modbus RTU Protocol – 3 wires.
Isolation: The inputs are isolated from the outputs and communication interfaces. Isolation Level: 2500 Vac / 1 minute.Accuracy (via RS485): 0.25% for voltage, current and power, 0.5% for power factor and frequency
Accuracy (via 4-20mA): 0.5% for voltage, current and power, 1% for power factor and frequency
Accuracy (via 0-10Vdc): 0.5% for voltage, current and power, 1% for power factor and frequency
Operation Temperature: 0 to 60 °C.
Dimensions: 99.5 x 114.0 x 17.5 mm.
Weight: 96 g.
Enclosure: PA66, with metallic attachment for 35 mm DIN track.
Reviews