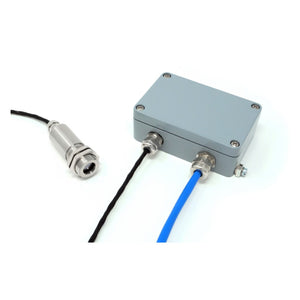 Temperature Range: -20°C to 1000°C
Sensing Head for Use in Ambient Temperatures Up to 180°C
ATEX, IECEx and UKEX Certified Up to Zone 0 (Gas)
JapanEx Certified
4–20 mA Output, Two-Wire, Loop-Powered
Optional RS-485 Network Adapter and USB Configuration Tool
Supplied With 5 m, 10 m or 25 m Sensing Head Cable
Stainless Steel 316 Housing, Ideal for Offshore Applications
Not Designed or Approved for Fever Detection

ExTempMini intrinsically safe non-contact infrared temperature sensors measure the temperature of an area of the surface of a solid or liquid, and transmit this as a linear 4-20 mA output. Explosion proof pyrometers typically have bulky, expensive housings, however because the ExTempMini uses Intrinsic Safety as the method of protection, it is compact and low-cost.  Temperature ranges from -20°C to 1000°C are available. All models have an adjustable emissivity setting, and may be used to measure a wide variety of target materials, including food, paper, textiles, plastics, leather, tobacco pharmaceuticals, chemicals, rubber, coal, asphalt and paint. A choice of optics is available to measure small or large targets at short or long distances.
INTRINSIC SAFETY CERTIFICATION
All models of the ExTempMini have been issued an ATEX (CML 22ATEX2007X) Certificate for use in gas explosive atmospheres in above ground installations. The sensing head can be used in all gas Zones including Zone 0. The main enclosure can be installed in Zone 1. The sensing head temperature classification is T3 for ambient temperatures above 115°C.
ACCESSORIES

LCT Loop Configuration Tool (USB Adapter)

All ExTemp models are fully configurable via the optional USB adapter (must only be connected on the safe side of the isolator or barrier). The free Windows-compatible configuration software allows the user to rescale the 4-20 mA output, adjust the emissivity setting, and configure averaging, hold processing and reflected energy compensation. The adapter is connected to the measurement loop via mini-hook connectors.  When using the LCT adaptor the free downloadble Calex Config Software may be used for configuration of the sensor and display of the measurement.

LCT-485   RS-485 Network Interface

This DIN rail-mounted unit provides RS-485 Modbus RTU Slave communications for one ExTemp sensor. It must only be connected on the safe side of the isolator or barrier. It allows up to 224 ExTemp sensors to be connected together in a network.


Air Purge Collar  APM (for sensors with 20:1, Close Focus optics), APMW (for sensors with 2:1 optics)
The air purge collar is used to keep dust, fumes, moisture and other contaminants away from the lens. Air flows into the fitting on the side and out of the aperture at the front.

FBL  Fixed Mounting Bracket
The L-shaped fixed mounting bracket offers a rigid support for the sensor and allows fine rotational adjustment about one axis.

ABL  Adjustable Mounting Bracket
The adjustable mounting bracket consists of a fixed mounting bracket plus another L-shaped bracket. When assembled as shown, the adjustable mounting bracket offers a rigid support for the sensor and allows fine two-axis adjustment.
Calibration Certificate
UKAS traceable calibration certificate at 3 standard temperature points.
HOW TO ORDER

Select the following options from the drop down box at the top of the page

1) Field of View

2:1:Divergent Optic
20:1 Divergent Optics


2) Temperature Range

-20°C to 100°C
 0°C to 250°C
0°C to 500°C
0°C to 1000°C
Special Temperature Range (temperature range is scalebable  from -20°C to 1000°C via optional adapters and software)

3) Cable Length

Contact IOThrifty for information on longer cable length
HAZZARDOUS AREA CLASSIFICATION

Main Enclosure
Ambient Temperature Rating: -20°C ≤ Ta ≤ 70°C
  ATEX Classification: Ex II 2 G
  IECEx Classification (Gas): Ex ia [ia Ga] IIC T4 Gb

Sensing Head (ambient temperatures below 115°C)
  Ambient Temperature Rating: -20°C ≤ Ta ≤ 115°C
  ATEX Classification: Ex II 1 G
  IECEx Classification (Gas): Ex ia IIC T4 Ga

Sensing Head (ambient temperatures below 180°C)
  Ambient Temperature Rating: -20°C ≤ Ta ≤ 180°C
  ATEX Classification: Ex II 1 G
  IECEx Classification (Gas): Ex ia IIC T3 Ga

Maximum DC Input Voltage: Ui = 28 V
Maximum Input Current: Ii = 93 mA
Maximum Input Power: Pi = 0.651 W
Maximum Internal Capacitance: Ci = 5.17 nF
Maximum Internal Inductance: Li = 1.99 µH
ATEX Certificate Number: CML 22ATEX2007X
IECEx Certificate Number: IECEx CML 22.0001X
JapanEx Certificate Number: CML 22JPN2009X
UKCA Certificate Number: CML 22UKEX2008X


SPECIFICATIONS
Temperature Range: -20°C to 1000°C
Output: Two-wire 4 to 20 mA (loop powered)
Maximum Temperature Span: 1000°C
Minimum Temperature Span: 100°C
Accuracy: ± 1°C or 1%, whichever is greater
Repeatability: ±0.5°C or 0.5%, whichever is greater
Emissivity Setting Range: 0.20 to 1.00 (pre-set to 0.95)
Emissivity Setting Method: User configurable via optional USB / RS-485 adapters
Response Time, t90: 240 ms (90% response)
Spectral Range: 8 to 14 μm
Supply Voltage: 12 to 24 V DC ±5%
Minimum Sensor Voltage: 11.4 Vdc
Maximum Current Draw: 25mA

Construction
  Main Enclosure: Painted Aluminium
  Sensing Head: Stainless Steel 316

Major Dimensions
  Main Enclosure: 99 x 65 x 35 mm
  Sensing Head: diameter 20 x length 69 mm including cable gland (see Dimensions on data sheet)

Mounting
  Main Enclosure: 2 x mounting holes, use M4 socket head screws
  Sensing Head: M20 x 1.5 mm thread, length 20 mm, supplied with two mounting nuts

Cable Length (Sensing Head): Choice of 5 m, 10 m or 25 m factory-fitted. Contact IOThrifty for longer cable lengths.
Weight with Cable: 475 g (5 m cable), 625 g (10 m cable), 1075 g (25 m cable)
Cable Connections: Removable screw terminal blocks. Conductor size 22 AWG to 14 AWG (0.326 mm2 to 2.08 mm2)
Output Cable Gland: Suitable for cable diameters 3.5 to 7.0 mm
Reviews