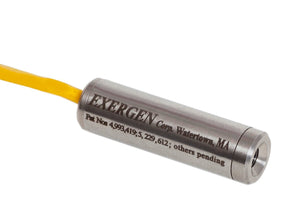 Most Reliable Non-Contact Temperature Sensor on Earth
Self-Powered
Intrinsically Safe
Repeatability 0.02F (0.01C)
Interchangeability +/-1%
Resolution 0.0001C (approx)
Ships In 5 Days for Fast and FREE Delivery!
Self powered IRT/C's are the most reliable non-contact temperature sensors in the market place. There are no active electronics so these passive thermocouple sensors can not fail.
Patented technology, the principals of operation of these sensors are calibrated to match conventional thermocouples at a specific temperature. By adjusting the calibration setting (c) of the IRT/C to equal the Seebeck coefficient (a), the signal output (mVout) will be within 2% linear to match the conventional t/c at a temperature close to the calibration point. As a result, when the Exergen IRT/C is wired into a conventional t/c input device, the target temperature (Tt) displayed will be the same as the surface (Ts).
 To Order  click on the models below or scroll to the top of the page and choose the desired model from the "Models" drop down menu, then ADD TO CART

| | |
| --- | --- |
|  PART NUMBER | TEMPERATURE RANGE/OUTPUT |
| IR-EX-IRT/C-K-440F/220C | 320-500F, K T/C OUTPUT |
| IR-EX-IRT/C-K-340F/170C | 280-370F, K T/C OUTPUT |
| IR-EX-IRT/C-K-280F/140C | 240-330F, K T/C OUTPUT |
| IR-EX-IRT/C-K-240F/120C | 180-250F, K T/C OUTPUT |
| IR-EX-IRT/C-K-180F/90C | 140-220F, K T/C OUTPUT |
| IR-EX-IRT/C-K-140F/60C | 70-190F, K T/C OUTPUT |
| IR-EX-IRT/C-K-80F/27C | 32-120F, K T/C OUTPUT |
| IR-EX-IRT/C-K-50F/10C | 0-85F, K T/C OUTPUT |
| IR-EX-IRT/C-K-98.6F/37C | HUMAN BODY, K T/C OUTPUT |
| IR-EX-IRT/C-J-440F/220C | 320-500F, J T/C OUTPUT |
| IR-EX-IRT/C-J-340F/170C | 280-370F, J T/C OUTPUT |
| IR-EX-IRT/C-J-280F/140C | 240-330F, J T/C OUTPUT |
| IR-EX-IRT/C-J-240F/120C | 180-250F, J T/C OUTPUT |
| IR-EX-IRT/C-J-180F/90C | 140-220F, J T/C OUTPUT |
| IR-EX-IRT/C-J-140F/60C | 70-190F, J T/C OUTPUT |
| IR-EX-IRT/C-J-80F/27C | 32-120F, J T/C OUTPUT |
| IR-EX-IRT/C-J-50F/10C | 0-85F, J T/C OUTPUT |
| IR-EX-IRT/C-J-98.6F/37C | HUMAN BODY, J T/C OUTPUT |
| |   |
| ACCESSORIES | |
| IR-EX-MB1 | MOUNTING BRACKET |
SPECIFICATIONS
SENSING RANGE: -50C to 1200F (-45 to 650C)
AMBIENT TEMPERATURE RANGE: 0-212F (-18 to 100C)
OPTIMUM RANGE: Nine models per t/c type
FIELD of VIEW: 1:1 (60) approximatelyPart
MINIMUM SPOT SIZE: 0.3" (8 mm)
SPECTRAL RESPONSE: 6.5 to 14 u
OUTPUT IMPEDANCE: 3 Kohms (approx)
CABLE: Twisted shielded pair base thermocouple material (J & K), 3 ft (.9 m) std length, Teflon sheathed, rated to 392F (200C) continuous service
HOUSING: Stainless steel, hermetically sealed, exceeds NEMA4 4X, IP65,67, intrinsically safe, cable shield grounded to housing and electrically isolated from the signal
WEIGHT: 1.4 oz (40 g) with cable
DIMENSIONS: 1.75" x 0.50" diameter (44 x 12.7 mm)
Reviews