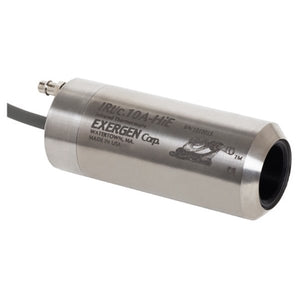 FREE delivery
Infrared Thermocouple IRT/C
Non-contact
Self Powered
Models for Metals and Non-metals
Intrinsically Safe
Repeatability 0.02 °F
Resolution approx 0.0001 °C
10:1 Field of View

The IRt/c.10A is an infrared thermocouple with a 10:1 field of view and adjustable emmisivity.  This compatact sensor is available with two different spectral responses.  The Low E version is suitable for reflective metals and the High E version is best suited for non reflective metals.  The Hi E version is  available with either a K thermocouple or J thermocouple output, the Lo E version is only available with K thermocouple output.
 To Order the models below scroll to the top of the page and choose the desired model from the "Models" drop down menu, then ADD TO CART

| | |
| --- | --- |
| Part Number | Description |
| IR-EX-IRTC.10A-K-1600LO | 10:1 field of view; airpurge/aircool; metal surfaces; shielded K t/c cable, 500 to 2500F |
| IR-EX-IRT/C.10A-K-1500HIE | 10:1 field of view; airpurge/aircool; non-metal surfaces; shielded K t/c cable, -50 to 2500F |
| IR-EX-IRT/C.10A-J-1500HIE | 10:1 field of view; airpurge/aircool; non-metal surfaces; shielded J t/c cable, -50 to 2500F |
SPECIFICATIONS

Lo E Version(metal)
Temperature Range: 500 to 2500°F(260-1370°C)
Spectral Response: 0.1 to 5µ
Output Impedance: 9-18Kohms approx.

Hi E Version(non-metal)
Temperature Range: -50 to 2500°F(-45 to 1370°C)
Spectral Response: 2 to 20µ
Output Impedance: 6-13Kohms approx.

Common Specifications

Minimum Spot Size with Supplied Aperture:
0.8"(2 mm)with no aperture
0.5"(13 mm)with 1/2 inch aperture
0.25"(6 mm)with 1/4 inch aperture

Cable: Twisted shielded pair, 3ft (.9m)
Housing: Hermetically sealed stainless steel.  Exceeds NEMA 4, 4X, IP65,67
Dimensions:  3.34 x 1.375" Dia(85 x 35 mm)
Weight: 8.0 oz(230 g)
Housing:
Air Purge: Built-in; cooling capacity to 400°F(200°C) ambient; 3'(0.9m tubing provided)
Since the outbreak of the Covid-19 pandemic, we have received a lot of interest in the use of our infrared temperature sensors for body temperature measurement.  These sensors are designed for industrial and laboratory surface temperature measurement.  They are not designed or certified for body temperature measurement or for medical use. Because of this IOThrifty does not warranty or guarantee their use in body temperature measurement applications
For measuring body temperature IOThrifty does offer these products:
https://www.iothrifty.com/products/infrared-body-temperature-scanner-thermometer
https://www.iothrifty.com/products/non-contact-fda-approved-infrared-body-thermometer
Reviews