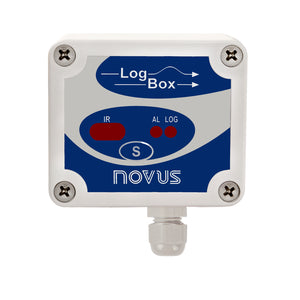 Two Universal Input: Pt100, Thermocouples (types J, K, T, E, N, R, S or B), Voltage (0 to 50 mV or 0 to 10 V), or Current (0 to 20 mA or 4 to 20 mA)

Easily Programmed via a Handy Infrared IRLink3 Interface Connected to a USB Port Under Windows® Software


IP65(Dust Tight)/ IP67(Water Tight) Enclosures

Accuracy: 0.2% of Full Scale for Pt100, Current and Voltage; 0.25% of Full Scale ±3 °C for T/C's Type R, S and B; 0.25% of Full Scale ±1°C for all other Thermocouples
Launch Options: Immediate, Programmed Time and Date
Stop Options: When Full, at a Certain Time, after a Number of Readings, or Wrap Around (Overwrites First Readings)
Internal Button and External Signal Input for Stop/Go
Memory for 64,000 Recordings in One Channel or 32,000 Recordings for each Channel
Infrared Communication Up to 1 Meter Away
Recording Interval: Programmable from 1 s to 18 Hours
Built in Real Time Clock
Estimated Battery Life: 200 Days with One Weekly Download and 5 Minutes Measuring Interval. Battery Life Depends Heavily on Data Retrieval Frequency
Switching Circuit for Powering Remote Transducers (Only in IP65 Version)
LogBox-AA is an electronic data logger with two input analog channels. Input data is stored in the logger internal memory, for later download to a PC for visualization and analysis in the form of tables or graphs. The data is easily exported to spreadsheets.
Universal Input
The LogBox-AA features dual universal multi-sensor inputs, individually programmable for Pt100, Thermocouples (types J, K, T, E, N, R, S or B), voltage (0 to 50 mV or 0 to 10 V), or current (0 to 20 mA or 4 to 20 mA).
Configuration and Visualization Software
The LogChart-II is the software used to configure the logger, download and visualize data. The logger configuration allows defining the logger operation mode, including programming the start/stop time of data acquisition. Other parameters such as signal input type, logging interval, etc, are easily selected through the LogChart-II software.

Power Saving
The LogBox-AA provides a signal for commanding an external power supply (battery) of a device connected to the logger. This feature allows that external devices, such as a transmitter, be powered only during the measurement sample time, thus extending the autonomy of these external batteries.

 To Order  click on the model below (or scroll to the top of the page and select the model from the drop down box) then ADD TO CART button

SPECIFICATIONS
Inputs:
Thermocouples according to the NBR 12771/99 standard; Pt100 RTD's NBR 13773/97

| | |
| --- | --- |
|  Type | Characteristics |
| J | Range: -50 to 760 °C (-58 to 1400 ºF) |
| K | Range: -90 to 1370 °C (-130 to 2498 ºF) |
| T | Range: -100 to 400 °C (-148 to 752 ºF) |
| N | Range: -90 to 1300 °C (-130 to 2372 ºF) |
| R | Range: 0 to 1760 °C (32 to 3200 ºF) |
| S | Range: 0 to 1760 °C (32 to 3200 ºF) |
| B | Range: 150 to 1820 °C (32 to 3308 ºF) |
| Pt100 | Range: -200.0 to 650.0 °C (-328 to 1202 ºF) |
| 0-50 mV * | Linear. Programmable range of -32768 to 32767 |
| 4-20 mA * | Linear. Programmable range of -32768 to 32767 |
| 0-20 mA * | Linear. Programmable range of -32768 to 32767 |
| 0-10 Vdc * | Linear. Programmable range of -32768 to 32767 |
Software Ranges Allowed:
0 to 65535, 65535 to 0, -32768 to 32767, 32767 to -32768.

Input Resistance:
0-50 mV, Pt100 and thermocouples: >10 MΩ
0-10 V: > 1 MΩ
0 to 20 mA and 4 to 20 mA: 100 Ω + 2 Vdc
Accuracy:
Thermocouple J, K and T: 0.25 % of max. range ±1 °C
Thermocouple N, R, S, B: 0.25 % of max. range ±3 °C
Pt100: 0.2 % of the max. range
mA, mV and V: 0.2 % of the max. range

Memory Capacity: 64.000 (64 k) logings
Interval Between Readings: Minimum: 1 second, maximum: 18 hours
External Battery Switch Time:  3.6 V lithium battery (1/2 AA)
Typical Battery Life: 200 days with one weekly download and 5 minutes measuring interval. Battery life depends heavily on data retrieval frequency

Working Temperature: From -40 °C to 70 °C

Protection: IP65 and IP67 models (see lateral label on product)
Material: ABS with polycarbonate film case; Polycarbonate film

Dimensions: 60 x 70 x 35 mm


Reviews