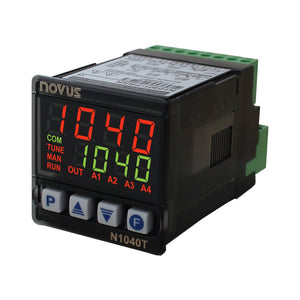 Accepts Thermocouples J, K, T and Pt100 RTD
Up to Four Outputs (3 Relays Plus Pulse Ouput)
Auto Tuning PID
Outputs Programmable for Main Control or Alarm
USB Programmable
Alarm Functions: Low, High, Differential, Low Differential, High Differential, Sensor Break
Loop Break Detection Detects Failures in the Control Loop
Simplified Programming
Optional RS485 With ModBus RTU Protocol

Despite its low cost, the N1040 is a high accuracy 1/16 DIN PID temperature controller packed full of features. It's depth is only 70mm a big benefit when panel space is limited.  Its exclusive removable terminal block makes wiring the input and output connections a simple process..

The N1040 accepts Pt100 RTDs and thermocouple types J, K and T. It is available with one, two or three relay outputs plus one pulse output. Any of the outputs can be configured to be a control output or alarm output.  An output may also be set to activate if a sensor break occurs.  The auto tune feature greatly simplifies integrating the controller into your process.

USB and RS485 Communications
The N1040 comes standard with USB communications and is available with optional RS485.  The USB interface can be used for configuring or monitoring of the controller. We offer a NCONFIG, a free software available via download for communication via the USB port. NConfig software must be used for the controller configuration. NConfig makes it possible to create, view, save and open configurations from the equipment or files in your computer.

For Monitoring purposes you can use any supervisory software (SCADA) or laboratory software that supports the MODBUS RTU communication on a serial communications port.
 To Order the model below scroll to the top of the page then  click on ADD TO CART button

| | |
| --- | --- |
|  PART NUMBERS | DESCRIPTION |
| Model N1040-PR | 1 Relay, 1 Pulse Output, 100/240V Power |
| Model N1040-PR-24V | 1 Relay, 1 Pulse Output, 24V Power |
| Model N1040-PRR |  2 Relays, 1 Pulse Output, 100/240V Power |
| Model N1040-PRR-24V |  2 Relays, 1 Pulse Output, 24V Power |
| Model N1040-PRRR-485 | 3 Relays, 1 Pulse Output, RS485, 100/240V Power |
| Model N1040-PRRR-24V | 3 Relay ,1 Pulse Output, 24V Power |
SPECIFICATIONS

Inputs
Thermocouples: J (-50°C to 760°C), K (-90°C to 1370°C), T (-100°C to 400°C) RTDs: Pt100 RTDs (2 or 3 wires),-200°C to 530 °C, a=0.00385
Input Sampling Rate: Up to 55 samples per second
Accuracy: Thermocouples 0.25% of span ± 1°C, Pt100 0.2% of span

Outputs
Out1: Voltage pulse 5V, 25mA
Out2 and Out3:  Relay SPST 1.5 A, 240 Vac/30 Vdc
Out4: Relay SPDT; 3A, 240 Vac/30 Vdc

Power
Standard: 100 to 240 Vac 50/60 Hz and 48 to 240 Vdc
24V Option: 12 to 24 Vdc/24 Vac
Operating environment: 0 to 50°C, 0 at 80% RH
Panel cutout: 46x 46 mm
Consumption: 6 VA maximum
Protection rate: IP65 front panel, IP30 back enclosure
Enclosure/front panel material: PC (UL94 V-2)
Approximate weight: 75 g
Certifications: CE and UL
Dimensions: 48 x 48 x 80 mm
Reviews