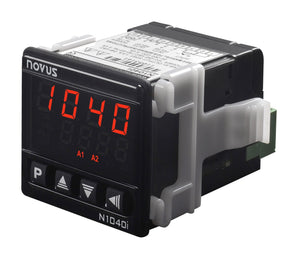 Inputs: Thermocouple J, K, T, N, R, S, B, E, RTD (PT100), 0-20 mA, 4-20 mA, 0-50 mV, 0-5 V,0-10 V
Display Resolution: 12000 levels (-1999 to 9999)
Input reading rate: up 55 per second
Easy to Use Programming
Configure through the Key Panel or Via USB Using the Free Software
Monitor through USB as Modbus RTU
UL Certified
Compact 1/16 DIN Panel Meter Size
The N1040i is a versatile process panel meter which allows inexperienced instrumentation operators easy installation and start up for most processes. With a wide list of input types including thermocouples, RTDs (PT100), voltage and current.  The N1040i is capable of measuring the majority of the variables and sensors encountered in industrial processes.

The configuration can be performed directly on the indicator through the front key panel or via the USB interface.

The USB INTERFACE(Standard)
The USB interface is used for CONFIGURING or MONITORING the meter. We offer a free downloadable software, QuickTune, which must be used for the configuration. QuickTune allows you to view, save and open configurations from the meter or files in your computer. You can transfer configurations between meters and use for backup copies.

For MONITORING purposes you can use any supervisory software (SCADA) or laboratory software that supports the MODBUS RTU communication on a serial communications port. We also offer FieldChart, a software used for monitoring and recording data acquired from the N1040i. It generates real time trends and data lists that can be exported in usable formats like a spread sheet. There are two versions available: FieldChart-Lite (8 channels, free download) and FieldChart-64C (64 channel version)

The N1040i is settable for display offset, configuration with password protection, serial communication, indication in degrees Celsius (°C) or Fahrenheit (°F).
TO ORDER - Choose the following options from the drop down boxes at the top of the page then Add To Cart
Power Supply Options
The N1040i has two choices for for power supply.  When ordering choose either:

100

to 240 V

ac

, 50/60 Hz

1

2  to 24 Vdc / 24 Vac
Optional Outputs
The N1040i comes standard with USB communications but there are several other output options to choose from:
Single or dual relay outputs used for alarms
0-20mA/4-20mA analog output re-transmission of process variable

24Vdc sensor excitation
RS485 Modbus RTU communication    

 Popular Models : To order click on the model number(or scroll to the top of the page and chose optons) then ADD TO CART button

| | |
| --- | --- |
|  PART NUMBERS | DESCRIPTION |
| N1040i-USB | Universal Process Indicator with USB Connectivity, 100-240 Vac/Vdc Power |
| N1040i-RE-USB | Universal Process Indicator with USB Connectivity,1 Relay and 24Vdc Excitation, 100-240 Vac/Vdc Power |
| N1040i-RE-USB-24V | Universal Process Indicator with USB Connectivity, Relay and 24Vdc Sensor Excitation. 12 to 24 Vdc / 24 Vac Power |
| N1040i-RA-USB-24V | Universal Process Indicator with USB Connectivity, Relay and 4-20 mA Analog Output. 12 to 24 Vdc / 24 Vac Power |
SPECIFICATIONS
Dimensions: 48 x 48 x 80 mm
Approximate Weight: 75 g
Power: 100 to 240 Vac (±10 %), 50/60 Hz, 6 VA (max consumption) or 12 to 24 Vdc / 24 Vac (model dependent)

Environmental
Operation Temperature: 0 to 50 °C
Relative Humidity: 80 % @ 30 °C (For temperatures above 30 °C, reduce 3 % per °C )

Inputs/Ranges
J thermocouple:  -110 to 950 °C (-166 to 1742 °F)
K thermocouple:  -150 to 1370 °C (-238 to 2498 °F)
T thermocouple: -160 to 400 °C (-256 to 752 °F)
N thermocouple: -270 to 1300 °C (-454 to 2372 °F)
R thermocouple: -50 to 1760 °C (-58 to 3200 °F)
S thermocouple: -50 to 1760 °C (-58 to 3200 °F)
B thermocouple: 400 to 1800 °C (752 to 3272 °F)
E thermocouple: -90 to 730 °C (-130 to 1346 °F)
Pt100/RTD (α=0.00385): -200 to 850 °C (-328 to 1562 °F)
Process Signals: 0–50 mVdc, 0-5 Vdc, 0-10 Vdc, 0-20mA, 4-20mA

Display Resolution: 0.1 / 1 (°C / °F)
Input reading rate: up to 55 per second
Accuracy @ 25 °C:
J, K, T, E: 0.25 % of the span ± 1 °C
N, R, S, B: 0.25 % of the span ± 3 °C
Pt100: 0.2 % of the span
4-20 mA, 0-50 mV, 0-5 V, 0-10 V: 0.2 % of the span

Input Impedance:
Pt100, thermocouples, 0-50 mV: > 10 MΩ
0-5 V, 0-10 V: > 500 kΩ
4-20 mA: 100 Ω

PT100 (RTD) Measurement: 3 wire type, (α=0.00385) With compensation of the cable length, max 50 meters, excitation current of 0.170 mA.
Case: Polycarbonate (PC) UL94 V-2
Certifications: CE, UL
Alarm Output (optional): Relay SPDT; 240 Vac / 30 Vdc / 3 A
24 Vdc Sensor Excitation (optional): 24 Vdc (±10 %) / 20 mA max
Reviews