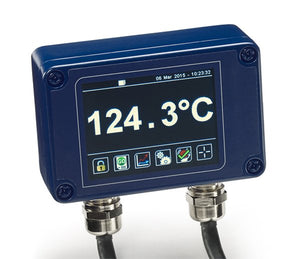 PM030 Touch Screen Interface Module for PyroCube IR Sensor
The PM030 is an optional multilingual touch screen interface module for the PyroCube sensor.

All the settings of the PyroCube sensor are adjustable via the built-in touch screen interface.

When an optional MicroSD Card is inserted into the PM030, the system functions as a fully-configurable temperature data logger.



SPECIFICATIONS
Touch Screen Display Format: 2.83" (72 mm) restive touch TFT, 320 x 240 pixels, backlit

Configurable Parameters:
Language (English, Chinese, Japanese)
Temperature units °C/°F
Displayed temperature
LED sighting on/off
Password
Date & time (for data logging time stamps)
Peak hold period, decay level
Averaging period
Correction (gain/offset)
Emissivity setting (with teach function)
Reflected energy compensation (with teach function)
Output type
Output temperature range
Polarity on error
Alarm mode, levels, hysteresis

Data Logging Specifications
Storage: MicroSD Card (optional), max. 32 GB, equal to 16 years of data at the fastest sample rate of 1 per second
Data Logging Interval: 1 second to 1 day (configurable)
Internal Clock Battery: 1 x BR 1225 3V (not included)
Variables Logged: Instantaneous target temperature, hold temperature, alarm events
File format: csv

Data Logging Configurable Parameters
Sample period
Number of samples
Scheduled start Configurable Parameters (Alarm Logging) Log times when triggered, acknowledged, reset
Log data while triggered

Electrical Specifications
Outputs: 2 x alarm relay outputs rated at 24 V DC, 1 A; Retransmitted analog output from sensor
Supply Voltage: 24 V DC ± 5%
Reviews