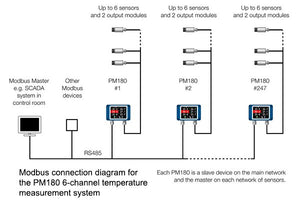 Modbus Master connection diagram for the PyroMiniBus and PM180 6-channel temperature measurement system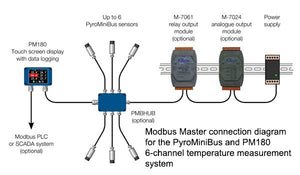 Modbus Master connection diagram for the PyroMiniBus and PM180 6-channel temperature measurement system
Main Screen of PM180 6-channel temperature monitoring system
Temperature chart of the PM180 6-channel temperature measurement system
Compatible with PyroMiniBus, PyroMini, PyroBus and FibreMini sensors
Configure, display and log data and alarms from up to 6 sensors per PM180 unit, simultaneously or individually
MicroSD Card stores up to 1 year of data (with 2 GB card)
Touch screen with backlight
Analogue and alarm relay outputs via optional modules
2-channel scrolling temperature chart
Multi-drop PM180 units on a larger Modbus network
The PM180 is a temperature indicator, data logger, alarm unit and configuration tool for Calex infrared temperature sensors. It is compatible with all models in the PyroBus and PyroMiniBus series, as well as all PyroMini and FibreMini models with Modbus output.

The PM180 functions as the Modbus Master on an RS485 network of up to 6 temperature sensors, and can itself be connected as a slave device to another RS485 network via a second, isolated Modbus interface. This allows multiple PM180 units to be multi-dropped to create a large network of sensors and displays.

Optional alarm relay modules allow the PM180 to be connected to alarm equipment such as sounders and beacons, and optional analogue output modules allow it to be connected to non-Modbus instrumentation.

All the configurable parameters for the hub, the connected sensors and the optional output modules are adjustable via the PM180's built-in resistive touch screen interface, which can be operated even with gloves on. With an optional MicroSD Card inserted, the PM180 functions as a fully-configurable data.
SPECIFICATIONS
Touch Screen Display: 2.83" (72 mm) resistive TFT, 320 x 240 pixels, backlit
Supply Voltage: 10 to 30 V DC
Maximum Current Draw: 100 mA
Ambient Temperature Range: 0°C to 60°C
Relative Humidity: Maximum 95%, non-condensing
Configurable Parameters(global): Temperature units, date and time, data logging, graph channels, alarm logging
Configurable Parameters (per channel): Signal processing, emissivity setting, reflected energy compensation, alarms, Modbus address
Alarm Configuration: 12 alarms (2 per sensor) with adjustable level, individually configurable as HI or LO.
Temperature Units: °C or °F selectable
Temperature Resolution: 0.1° below 1000°; 1° above 1000°
Signal Processing: Average, peak hold, valley hold, minimum, maximum
Display Sample Period: 120 ms per device (720 ms in total for 6 devices)
Compatible Sensor Types: PyroBus (all models), PyroMiniBus (all models), PyroMini (-BB and -BRT models), FibreMini (–BRT models)
Compatible Output Module Types: ICP DAS M-7061 12-channel relay output module, ICP DAS M-7024 4-channel analogue output module, selectable V/mA
Dimensions: 98(w) x 64(h) x 36(d) mm excluding cable glands
Weight: 280 g
Reviews