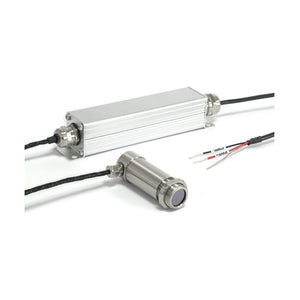 Miniature Sensing Head Withstands Up to 120°C Ambient Temperature Without Cooling
Measurement Ranges From -20°C to 500°C
Choice of Outputs: 4-20 mA, 0-10 V DC, Type J or K Thermocouple
Right-Angled Cable Entry for Low-Profile Installations
Stainless Steel Sensing Head, Sealed to IP65
Fixed Emissivity 0.95 - Suitable for Measuring Most Non-Reflective Non-Metals, and Painted Surfaces

The PyroMiniOEM is a limited version of the popular Calex PyroMini but with many of the bells and whistles removed in order to provide a still powerfull infrared temperature measurement sensor at a very affordable price.

The PyroMini OEM non-contact infrared temperature sensors measure temperatures from -20°C to 500°C and provide a choice of analog outputs.

The miniature sensing head of the PyroMini OEM has a right-angled cable entry, allowing it to be installed where space is limited.

An ambient temperature rating of 0°C to 120°C allows use in applications such as dryers and curing machines where the air temperature is high.

Non-reflective, non-metallic materials such as paper, textiles, food, thick plastics, rubber, organic materials and painted surfaces can be measured accurately with the PyroMiniOEM.

Metal surfaces can be measured, provided they are painted or coated first.
 To Order

Select (from the drop down boxes at the top of the page)
1) Optics
   2:1 wide-angle optics
   15:1 general-purpose optics
   30:1 narrow-angle optics
   Close Focus optics (measured spot diameter 5 mm at distance 100 mm)
   Extra Close Focus optics (measured spot diameter 3.5 mm at distance 50 mm)

2) Temperature Range
   -20°C to 100°C
   0°C to 250°C
   0°C to 500°C

3) Output
   2-wire, 4-20 mA
   4-wire, 0-10 V DC
   4-wire*, Type J Thermocouple
   4-wire*, Type K Thermocouple
 * Sensing head internal temperature is provided as a 4-20 mA signal on the power loop. It is possible to use the sensor without measuring this signal; in that case power should be connected directly to PWR+ and PWR-.
| | |
| --- | --- |
|  PART NUMBERS | DESCRIPTION |
| IR-CA-FBS | Fixed mounting bracket |
| IR-CA-ABS | Adjustable mounting bracket |
| IR-CA-APSW | Air purge collar for compact sensors (2:1 optics) |
| IR-CA-APSN | Air purge collar for compact sensors (all optics except 2:1) |
| IR-CA-LSTS | Laser sighting tool for compact sensors (Battery required - not included) |
General Specifications
Temperature Range: -20°C to 100°C, 0°C to 250°C or 0°C to 500°C
Output: 4-20 mA, 2-wire, loop-powered, linear with temperature, 0-10 V DC, linear with temperature,
Type J Thermocouple, Type K Thermocouple
Accuracy: ± 1°C or 1%, whichever is greater

Repeatability: ± 0.5°C or 0.5%, whichever is greater
Emissivity Setting: Fixed at 0.95
Response Time: t90: 240 ms (90% response)
Spectral Range: 8 to 14 μm
Supply Voltage: 12 to 28 V DC (for 0-10 V DC models), 6 to 28 V DC (for all other models)
Maximum Current Draw: 20 mAMax.
Loop Impedance: 900 Ω (4-20 mA output)
Mechanical Specifications
Construction (Sensing Head): Stainless Steel 316
Construction (Electronics Module): Aluminium
Major Dimensions(Sensing Head): 18(dia.) x 55(l)mm
Major Dimensions(Electronics Module): 26.5(h) x 25(w) x ~130(l) mm including cable glands
Mounting (Sensing Head): M16 x 1 mm thread Mounting nut included
Mounting (Electronics Module): Requires four M3 screws (see Installation)
Cable Length: Sensing head cable: 3 m
Output cable: 1 m as standard; up to 30 m available
Relative Humidity: 95% Non-Condensing
Conformance Standards: CE, RoHS, EMC Directive EN61326-1:2006
Ambient Temperature Range: 0°C to 120°C (sensing head),   0°C to 70°C(electronics module)
Enclosure Rating: IP65(Sensing Head), IP50(Electronics Module )
Field of View
Reviews