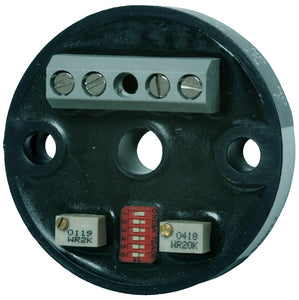 Thermocouple Types J or K
Fixed Ranges: 0-200°F or 0-500°F
Non-Isolated
Field Calibratable
0.1% Accuracy
Factory Calibrated
Ships in 1 Week for Fast and FREE Delivery

Fixed range SM811EC series of two wire thermocouple transmitters receive signals from thermocouples and provide a proportional 4-20mA output signal. Because the SM811EC is a two wire device, a single pair of twisted copper wires are all that is required to provide power to the unit as well as to carry the output current.
All SM811EC's are field calibratable, accepting inputs from J or K thermocouples.The zero pot provides an offset adjustment of +/- 25% of the span. The SM811EC's are all provided with upscale thermocouple break indication.
 To Order the models below scroll to the top of the page and choose the desired model from the "Temperature Range" drop down menu, then ADD TO CART

| | |
| --- | --- |
|  PART NUMBER | DESCRIPTION |
| TX-DE-SM811EC-J2 | J Type Transmitter Temp Range: 0-200F |
| TX-DE-SM811EC-K2 | K Type Transmitter Temp Range: 0-200F |
| TX-DE-SM811EC-J4 | J Type Transmitter Temp Range: 0-500F |
| TX-DE-SM811EC-K4 | K Type Transmitter Temp Range: 0-500F |
SPECIFICATIONS
POWER REQUIREMENTS: 7-35 VDC at terminal block
ACCURACY: 0.1% of millivolt span
WORKING TEMPERATURE: -25C to 85C
STORAGE TEMPERATURE: -65C to 125C
THERMAL ZERO SHIFT
0.01%/C (span > 10 mV)
0.02%/C (span < 10 mV)
ISOLATION: 500 VRMS
COMMON MODE REJECTION: 115 dB @ 60 Hz
3 dB FREQUENCY: 3 Hz
WEIGHT: 2.5 oz
INPUT SENSOR: J or K thermocouples
INPUT BREAK INDICATION: upscale
INPUT OFFSET ADJUSTMENT: +/-25% of mV span
INPUT SOURCE CURRENT: 4 nA typical
INPUT RESISTANCE: .3 X 107 Ohms
OUTPUT RANGE: 4-20 milliamps
OUTPUT LIMITS: 3-28 mA, typical
MAXIMUM LOAD RESISTANCE: =(supply voltage -8.5V)/20 mA
LOAD EFFECT: <.01% of span/300 Ohm change
POWER SUPPLY EFFECT: <.002% of span per volt
Reviews