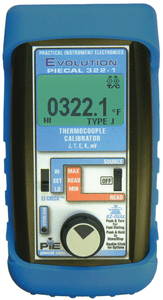 PIECAL 322 Thermocouple Calibrator/Source Read w/Auto Step
Easy to Use
Source and Read Four T/C Types Plus mV (J/K/T/E, -13.000 to 8.000 mV)
Resolution to 0.1 F/C, Accurate to 0.2C (Cold Junction Sensor Accurate to 0,05C)
 Faster Calibrations (Instantly Select 3 Outputs with EZ-CHECK Switch; Easily Find Trip Points w/2 Speed EZ DIAL Knob & Automatic Stepping)
Easily Change T/C Types & Scale (Double Click to Select T/C Types & F/C)
Easy-to-Read Display (Turn On the Backlight to Read in Dark Areas of the Plant)
Use in the Plant, Field or Shop (Includes Rubber Boot, mV Test Leads, Low Profile Switches Resist Accidental Damage, Brass Screws for T/C Wire Plus Mini T/C Socket)
Comes with Protective Rubber Boot, Carrying Case, Certificate of Calibration, Alligator to Banana Test Leads, 4-AA Batteries
In Stock for FAST and FREE Delivery

PIE'S 322-1 is designed for easy use. With the 322-1 you can check and calibrate all your thermocouple instruments and measure thermocouple sensors. You can take it to the shop, plant or field. Carry it without worry as it comes protected with a rubber boot and rugged low profile switches. Easy to operate even in dark areas of the plant with the  backlit display.
Calibrate directly in temperature, C/F. You now can stop carrying around a millivolt source and thermocouple tables. The 322-1 works with the 4 most common thermocouples (J/K/T/E). Easily set any value quickly to within 0.1C with the adjustable digital potentiometer "DIAL" plus store any 3 temperatures  for instant recall with the EZ-CHECK switch. Or calibrate from -13.000 to + 80.000mV.
Fast calibration with automatic output stepping. You can choose between 2, 3, 5, 11 steps and ramp to automatically increment the outputs in 100%, 50%, 25%, 10% or 5% of span. Select the step time to match your system from 5, 6, 7, 8, 9, 10, 15, 20, 25, 30, 60 seconds.
Comparable with all process instruments. No competitors calibrator is compatible with as many process instruments as PIE'S 322-1. Connect directly to the thermocouple inputs of transmitters, PLCs, DCS & multichannel recorders to verify their outputs or displays.
Measure thermocouple sensors. Trouble shoot sensor connections and find broken wires or corroded connections. Connect your thermocouple and the 322-1 measures the probe in degrees C/F.
Calibration lab accurate and stable. The internal cold junctions thermistor is accurate to +/-0.1C and is traceable to NIST. The sensor is thermally bonded to an isothermal mass which includes brass blocks with screw terminals for connection of bare thermocouple wires along with a  mini thermocouple connection for fast connections. The circuitry uses an extremely stable voltage reference and low drift components which makes the 322-1 more accurate than most other handheld and benchtop thermocouple calibrators.
 To Order the model below scroll to the top of the page then click on ADD TO CART button

| | |
| --- | --- |
|  PART NUMBER | DESCRIPTION |
| CL-PI-322-1 | T/C CALIBRATOR J/T/E/K, mV |
 SPECIFICATIONS
ACCURACY: +/-(0.008% of Reading + 0.006 mV)
COLD JUNCTION COMPENSATION: +/-0.1C Themistor traceable to NIST for 11 years
MILLIVOLT RANGE: -13.000 to 80.000mV
OPERATING TEMPERATURE RANGE: -25 to 60C (-10 to 140F)
TEMPERATURE EFFECT: < +/-50 ppm/C; Cold Junction Sensor < +/-25 ppm/C
RH RANGE: 10%<RH <90% (0 to 35C) Non-Condensing
DIMENSIONS: 5.63 x 3.00 x 1.60 inches
WEIGHT: 12.1 oz, including boot and batteries (4-AA)
BATTERY LIFE: 50 hrs
LOW BATTERY WARNING: 1 hr of life left
PROTECTION AGAINST MISCONNECTIONS: Over-voltage protection to 60 V dc (rated for 30 seconds)
DISPLAY: High contrast graphic LCD. LED backlight for use in low lit areas
READ
Input impedance: > 10 Megohms
Open t/c:  threshold 10,000 ohms nominal; pulse < 10 microamp pluse for 400 milliseconds
Normal Mode Rejection: 50/60 Hz, 50 dB
Common Mode Rejection: 50/60 Hz, 120 dB
SOURCE
Output Impedance: < 0.3 ohms
Source current: > 20 mA (drives 80 mV into 10 ohms)
Noise: < 4 microvolts p-p for frequencies of 10 Hz or below
Reviews