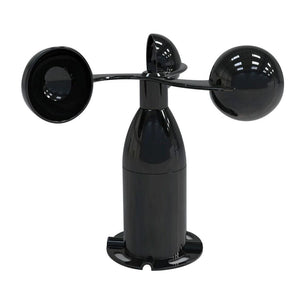 Compact Size.
Quick Responding.
Simple and Easy Installation

The three-cup wind speed sensor is an accurate, rugged, fast responding instrument used for measuring  wind speed.  The sensor housing is constructed from resistant aluminum which is corrosion resistant and can stand up to  most weather conditions.  The internal electrical design includes a military grade PC board, photoelectric conversion mechanism and industrial microcomputer processor to provide accurate repeatable readings.
Applications include wind speed measurement in  greenhouses, weather stations, ,shipyards, docks, farms and other environments which may be impacted by wind.


.
To Order  click on the model below or scroll to the top of the page then click on ADD TO CART button


SPECIFICATIONS

Measuring Range: 0-30m/s
Measurement Accuracy: ±(0.3) m/s
Response Time: <1s
Working Voltage: 5V - 24V DC
Output Interface: RS485
Stabilization Time : <1s
Cable Length: 3 meters
Operating Temperature Range: -30°C to +70°C (-22°F to +158°F)
Operating Humidity Range: 15-85% RH
Compatibility: WS1-PRO-SIM, WS1-PRO-WiFi, GS1-AETH1RS, GS1-AL4G1RS, GS1-AETH1RS-ALARM, GS1-AL4G1RS-ALARM
Reviews