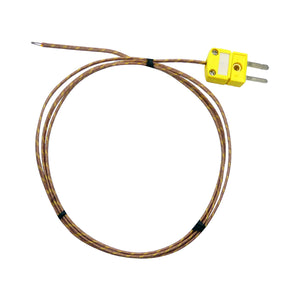 K Type Thermocouple
24 AWG Wire with Braided Glass Insulation
40 or 72  Inches Long
Miniature Male Connector
Temperature Range:32 to 900°F(0 to 482°C)

The WTC-GG-24-MP is a beaded wire thermocouple with braided glass (fiberglass) insulation and a miniature connector. This is a basic general purpose style of thermocouple well suited for temperature measurement of air or other gases.

Made from 24 AWG wire these thermocouples offer a quick response time with a time constant of about 1.2 seconds in fast moving air.

The WTC-GG-24-MP is available in K thermocouple calibration (made from Nickel-Chromium/ Nickel-Alumel alloy) and has a temperature range of 32 to 900°F(0 to 482°C) .

The thermocouple includes an industry standard miniature male (plug type) thermocouple connector which is compatible with thermocouple instruments with mating female connectors. The length of the thermocouple is 40 or 72 inches but can be extended with thermocouple extension wire. The included connector makes it easy to extend the thermocouple. Thermocouple wire lengths of 100 feet or more are not uncommon but the longer lengths may introduce some application issues(see our blog on Extending Thermocouples.

.
To Order the model below click on the link or scroll to the top of the page then click on ADD TO CART button

| | |
| --- | --- |
| PART NUMBERS | DESCRIPTION |
| WTC-GG-K-24-40-MP | Type K Glass Insulated 24 AWG Beaded Wire Thermocouple with Miniature Male Connector, 40 Inch Length |
| WTC-GG-K-24-72-MP | Type K Glass Insulated 24 AWG Beaded Wire Thermocouple with Miniature Male Connector, 40 Inch Length, 72 Inch Length |


SPECIFICATIONS

Thermocouple Type: K
Length: 40 or 72 inches
Wire gauge: 24 AWG
Temperature Range: 32 to 900°F(0 to 482°C)
Accuracy:  ±2.5°C or ±0.75% of reading (whichever is greater)
Insulation: Braided fiberglass
Termination: Miniature Male Connector

Reviews