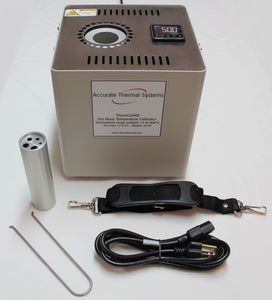 ThermCal400 Dry Block Temperature Calibrator
Laboratory Performance at an Economical Price
Lightweight & Portable for Use in the Field
Removable Probe Inserts for Flexibility and Many Probe Sizes (one multiwell insert that accepts 1/8", 3/16", 1/4", 5/16" & 3/8" diameter probes)
Adjustable Ramp Rate for Testing Thermal Switches
Fast Heat up & Stabilization
Operates Ambient +5

°

C to 455

°

C/752°F
RS485 Interface for PC Connection
CE, Cal Certificate, Designed & Mfg in USA
Calibrated to C, contact iothrifty.com for F calibration (no charge)
Everything you need to operate the ThermCal400 is included with the unit
With over 25 years experience of designing, manufacturing and supporting Dry Block Temperature Calibrators, Accurate Thermal Systems, has developed two units that offer outstanding performance, features and value that are unmatched. These units have a small footprint, fast heat up and cool down and are light weight for both field and laboratory use. Unlike many competing lower cost models that only offer a fixed block, these units accept inserts for probe size flexibility in addition to fixed holes.
The ThermCal400 controller offers  large, bright and easy to read display. This controller has advanced 5 zone PID control for optimum performance and adjustable ramp rates for proper testing of thermal switches. The unit is switchable between F and C along with the ability to easily adjust unit calibration using your own  temperature standards.
Independent limit control is incorporated into the units to prevent operation and/or fault conditions above 425C. A cooling fan keeps the internal components and controller cool at all operating temperatures.
Everything you need to operate the ThermCal400 is included with the unit: one multiwell insert that accepts 1/8", 3/16", 1/4", 5/16" & 3/8" diameter probes, carrying strap, insert removal tool, mains cable and traceable cal certificate.
Applications: temperature sensor calibration for RTD's/PRT's, thermocouples, LIG thermometers, thermal switches, dial thermometers, hand held digital indicators, data logger and recorders and many other devices.
Optional Blackbody Source Insert for Thermcal400 Dry Block Temperature Calibrator
The CL-AC-ATS3129 is a blackbody source insert for the ThermCal400 Dry Block Temperature Calibrator. In addition to checking standard surface contact temperature sensors like RTD's, thermocouples, thermal switches, and indicators with the included insert, you can now purchase the Blackbody Source insert to check Infrared pyrometers and indicators. This option for the ThermCal400 makes it an economical choice for checking all of your temperature sensors.

There is no special calibration or change needed to use the Blackbody insert. Simply place it in the well using the insert extractor tool included with the unit. The accuracy using the Blackbody insert is  200°C = ±1.2°C (up to 200°C) and ±1.7°C (200 to 400°C) 



System Requirements: 120 or 240 VAC mains supply 50/60hz, 8 amp supply (120 volt version, 4 amp supply (240 volt version)
 To Order the models below scroll to the top of the page and choose the desired model from the "Models" drop down menu, then ADD TO CART

 PART NUMBER
DESCRIPTION
CL-AC-ATS3010
THERMCAL400 DRY BLOCK CALIBRATOR - 120 VOLT
CL-AC-ATS3020
THERMCAL400 DRY BLOCK CALIBRATOR - 240 VOLT
ACCESSORIES

 

 

 

CL-AC-ATS3043
INSERT 5 X 1/4"
CL-AC-ATS3044
INSERT 2 X 1/4" & 2 X 3/8"
CL-AC-ATS3045
INSERT 2 X 1/4" & 2 X 1/2"
CL-AC-ATS3046
INSERT 1 X 1/4"
CL-AC-ATS3047
BLANK
CL-AC-ATS3048
INSERT 1 X 9/16" & 1 X 1/4"
CL-AC-ATS3049
INSERT 1 X 5/8" & 1 X 1/4"
CL-AC-ATS3050
INSERT 1 X 11/16 & 1 X 1/4"
CL-AC-ATS3051
INSERT 1 X 3/4" & 1 X 1/4"
CL-AC-ATS3129
Blackbody Insert
CL-AC-ATS3052
THERMACAL400 CARRYING CASE
Datasheets and Instruction Manuals
SPECIFICATIONS
TEMPERATURE RANGE (22C ambient): 27C (80F) TO 400C (752F)
ACCURACY: +/-0.4C OR +/-0.7F
STABILITY: +/-0.05C/+/-0.09F
RADIANT UNIFORMITY (same sized wells): 0.025 AT 400C
HEAT UP TIME - ambient to max: 12 MINUTES
COOL DOWN TIME -max to 100C: 20 MINUTES
PROBE WELL DEPTH & INSERT DIAMETER: 4.5" DEPTH BY 1.5" DIAMETER
POWER CONSUMPTION: 900 WATTS
OVERALL DIMENSIONS: 8" H x 8" W x 8" L
WEIGHT WITH INSERT: 11 POUNDS
WARRANTY: 2 YEARS
Reviews