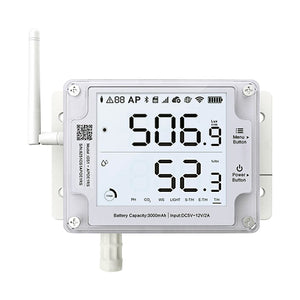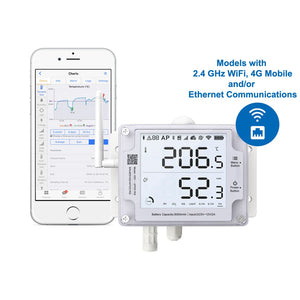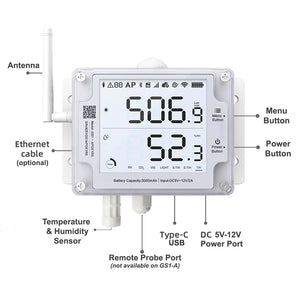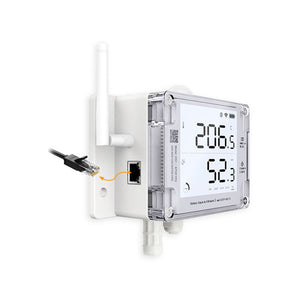 The GS1-AETH Offers WiFi and Ethernet Connectivity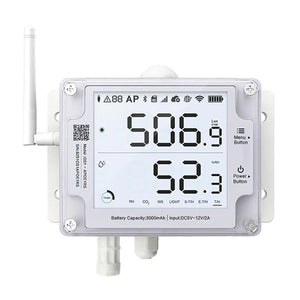 GS1-AL4G1RS Offers WiFi and 4G Cellular Connectivity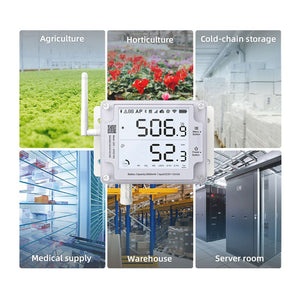 Just a Few of the Many Applications for the GS1
Base Unit Measures Temperature, Humidity and Ambient Light (model dependent)

Remote Probes Add Measurement of Soil Temperature/Humidity, Wind Speed and CO2 Concentration
300,000 Stored Measurements
WiFi, Mobile Cellular and Ethernet Communications Options

Cloud Platform Provides Data Storage, Data Display and Alerts
Powered Via Battery or External Power Supply

IP65 Waterproof (model dependent)
Bright Backlit Display
The GS1 series is part of the UbiBot family of IOT sensors. The industrial grade GS1  has integral sensors for ambient temperature, ambient humidity and ambient light measurement. It also supports the use of a large variety of optional external probes for monitoring other environmental parameters. Models are available with WiFi connectivity, mobile cellular and Ethernet connectivity.

WiFi, Mobile and Ethernet Data Connectivity for Easy Access Anywhere in the World
The GS1 device can connect to the network via RJ45 Ethernet cable as well as WiFi and mobile cellular data. It measures environmental data 24/7 at the pace you set. It can upload and store your data securely on the UbiBot cloud platform. No matter where you are, you can view the sensor readings anytime using our mobile app or with any browser enabled device.

*Mobile and Ethernet connectivity depends on the specific model purchased. Ambient light not available on GS1-A model.

Super Clear Backlit LCD Screen

The GS1 has a bright and clear 4-inch LCD screen. This displays the current environmental conditions and shows you any alerts and notifications in real-time. The screen my also be backlit for easier viewing in dark environments.
Even if the Network Fails, the Ws1-PRO Won't Let You Down
The GS1 boasts a large onboard memory and continues to collect and store data even when the network is down. If the network ever fails, you will receive a notification.
Industrial IP65 Water Resistant/Weather Tight Enclosure
All models except the GS1-AETH1RS feature an IP65 enclosure. IP65 is dust tight and provides protection against low pressure water jets from any direction, as well as condensation and water spray making it suitable for most outdoor enclosures that won't encounter extreme weather such as flooding. Since the GS1-AETH1RS has an RJ54 Ethernet connector it is the only version which does not have the IP65 rating.
Power by Battery or External Power Source
To offer industrial users a more suitable solution, we use 2900 mAh lithium battery for the GS1 device. Combined with low-power technology, the device has longer standby time for uninterrupted monitoring. It can operate completely from battery power or from an external power source with the batteries acting as a power back up in case of power failure. The GS1 may be externally powered by the included type-C USB cable or with the optional wall plug power adapter. We also offer an Ethernet PoE (Power over Ethernet ) adapter for the GS1-AETH1RS Ethernet enabled GS1.
Compare the Four Models
To fit different demands of various user cases, the GS1 was designed to three versions: WiFi only, WiFi and SIM card, WiFi and RJ45 cable. Each of them are unique but also share the same high performance.
| | | | | |
| --- | --- | --- | --- | --- |
| Model | GS1-A | GS1A-A1RS-S | GS1-AL4GRS | GS1-AETH1RS |
| Connectivity | WiFi | WiFi | WiFi/4G | WiFi/ Ethernet* |
| Battery Life | 4-6 months (WiFi only) | 4-6 months (WiFi only | 4-6 months (WiFi only), 3-6 weeks (4G) | 3-5 days |
| Internal Sensors | Temperature, Humidity | Temperature, Humidity, Light | Temperature, Humidity, Light | Temperature, Humidity, Light |
| External Probe Support | | ✓ | ✓ | ✓ |
| IP 65 Enclosure | ✓ | ✓ | ✓ | |
* GS1-AETH1RS only supports Ethernet switch with 100 Mbps or lower. Gigabit switching hub with auto-negotiation is also compatible.
A Full Featured Cloud-based Platform For Monitoring, Logging and Alerts

The GS1 transmits data to the UbiBot cloud platform which allows users to view the data from any device which has internet access. The UbiBot Cloud Platform has many powerful features.

Data Management - Manage all your UbiBot IoT data in one location, extract clear insights and maximize its value. You always retain full control over your data.
Unlimited Storage - Unlimited cloud-based storage ensures you will never run out of space. This allows you to view all your historical data via the app or browser.
Analysis and Visualization - Use powerful analysis and visualization tools to get the most out of your data. Spot trends and make direct comparisons. View a screen image of the Cloud Console for a WS1 in action.
Open API - Our RESTful API gives you full access to our platform, allowing you to build your own Apps to access your data securely.
Real-time Alerts
- Our fully customizable alerts system will notify you by app notifications or emails as soon as any metrics cross the thresholds you set. For a small optional fee you can also receive SMS (text) and Voice alerts.

Highly Secure Platform - Our platform is designed to keep all your data secure so you never have to worry about hackers or other security breaches.

The free cloud plan is a good solution for most users but we also offer several different levels of paid subscriptions for users with large number of units and large data storage requirements. The table below provides a comparison of the different plans.
1. The storage space is cumulative and does not reset monthly but exporting all data will clear the storage space. If your device takes temperature, humidity and light sensor readings every 10 minutes, the free 200MB storage is enough to store over 2 years of data.2. The Full Data Export amount is on a monthly basis (example 3 times per month for the free plan). If you only export the data collected over single month period, there is no limit on the number of exports as long as the export is less than 8000 records.3. One credit equals $1 USD.
Cloud Platform Alarms, Alerts and Additional Features

The cloud platform allows you to set up a variety of alarm conditions. Alarms can be triggered when a measured values goes above or below a threshold. You can also trigger an alarm on low power or loss of WiFi connection. The console can also generate an alarm when a device goes off-line and comes back on-line. When an alarm condition occurs a variety of alert types can be sent to notify the user.

Email Alerts - Send an email alert when an alarm condition occurs.

IFTTT - UbiBot works with IFTTT (If This Then That), giving you an array of possibilities in monitoring your environments. With IFTTT you can trigger millions of different IFTTT events, such as turn on a light when WS1 senses light levels fall below 40 lux. Integration with IFTTT makes your smart devices talk to each other without manual intervention.

SMS Alerts - SMS text alerts can be set to your mobile devices.

Voice Call Alerts - UbiBot can even send an actual voice alert to your telephone.
UbiHTTP Alert - Allows communication between devices, websites, and Web services without implementing protocols at the device level. When an alarm condition occurs in the Cloud Platorm, UbiHTTP will send a HTTP request to a remote URL.

Data Forwarding Feature - The Data Forwarding will forward a copy of the original feed data from any UbiBot device to a given URL endpoint. This can be useful to seamlessly connect the UbiBot devices to third-party platform business logic or third-party application. This service requires activation on the UbiBot platform along with some development work on the data endpoint to correctly handle the incoming data feed.

Platform API - The UbiBot IoT platform allows you to collect, store, analyze and visualize data collected from UbiBot sensor devices, as well as create rules related to that data. All these functions are accessible via our RESTful API over HTTP.

SpreadSheets - The AutoSync Google Sheets Service allows you to transfer your data automatically into Google Sheets.

Alexa Integration- You can interact with your UbiBot devices by voice, you can setup routines to use readings from UbiBot temperature sensors as conditions to perform series of actions, such as turning on/off the heating and air conditioning.
Many of the alerts and features are free but some require and additional fee as shown in the fee schedule below.
One credit equals $1 USD

1.Threshold of 200 free alert emails per device per month is rotated monthly (If you own 10 devices, you would have 2000 free email alerts per month). Overage costs is 3 credits per thousand email alerts sent.

2.We offer 3 free trials of data forwarding services for a new UbiBot device. Each trial is valid for 24 hours. Monthly fees will be charged if you would like to continue with this function.

The UbiBot App Puts All of Your Data in the Palm of Your Hand
Also included is a free app compatible with most mobile devices. With the free UbiBot App you can

Configure Your Devices
View Data from All Devices
Receive Alerts on Your Phone or Mobile Device
Manage Your Devices
View Shared Alerts
Accessories
The GS1 has a large variety of optional accessories to further enhance its base monitoring capabilities.
| | |
| --- | --- |
| | AI-485 Four Channel 4-20mA Input Module.  View Details |
| | Audio Plug Splitter for GS1,Splitter cable  for remote plug connector. Compatible with all models except GS1-A. View Details |
| | CO2 Probe. Compatible with all models except GS1-A. View Details |
| | Light and Siren Alarm for GS1. Compatible with all models except GS1-A. View Details |
| |  PA-GS1 Power Adapter for GS1,  Compatible with all models. View Details |
| | PT100 Industrial grade temperature probe, -200°C to 400°C temperature range.  Compatible with all models except GS1-A. View Details |
| | PoE Splitter.  Compatible with GS1-AETH1RS and GS1-AETH1RS-ALARM. View Details |
| | TH30S-B temperature & humidity probe,-40°C to +80°C (-40°F to +176°F); 0 to 100% RH measurement range. Compatible with all models except GS1-A. View Details |
| | Soil temperature and moisture sensor, -40°C to +85°C (-40°F to +185°F) 0 to 100% RH measurement range. Compatible with all models except GS1-A. View Details |
| | Wind speed sensor. Compatible with all models except GS1-A. View Details |
| | Micro-USB cable splitter. View Details |
| | Solar Cell Panel for GS1. View Details |
Remote Probes  Provide Even More Measurement Options

The built-in RS485 interface allows the GS1 series supports multiple probes that can be used in various industry fields.  The large and clear LCD screen supports display of the external probe readings. Altogether 5 probes can be connected to the GS1 but only one of each type of probe may be used at a time. In order to connect multiple probes we offer a splitter cable for the remote probe connector.  Please note, the model GS1-A does not provide support for the remote probes.  
.
To Order the model below click on the link or scroll to the top of the page then click on ADD TO CART button

| | |
| --- | --- |
| PART NUMBERS | DESCRIPTION |
| GS1-A | GS1 Data Logger/Remote Monitor with WiFi Connectivity (does not support external probes) |
| GS1A-A1RS-S | CO2 Data Logger with Ethernet and WiFi Communications |
| GS1-AETH1RS | GS1 Data Logger/Remote Monitor with WiFi and Ethernet Connectivity, supports external probes |
| GS1-AL4G1RS | GS1 Data Logger/Remote Monitor with WiFi and 4G Cellular Mobile Connectivity, supports external probes (includes SIM card - see details on cellular plans and pricing) |
 Videos
SPECIFICATIONS
Temperature Range: -4°F to 140°F (-20°C to 60°C)
Humidity Range: 10% to 90%RH
Temperature: ±0.3°C
Humidity Accuracy: ±3% RH
Ambient Light: ±2%
Screen: 4 in. LCD with backlit
Power Source: Built-in lithium battery can be powered/charged by Type-C USB or DC (5V-12V) charger. Optional POE splitter available for GS1-AETH1RS.
Battery Life: 4-6 months (WiFi only), 3-6 weeks (sync via mobile cellular), 3-5 days (Ethernet).
Compatibility: iOS 11+, Android 8.1+, or Windows 7+, or macOS v10.8+
On-board Memory: 300,000 sensing records
Network: Supports WiFi, GPRS / 3G / 4G
WiFi Channel: Supports 20MHz or "Auto" setting
WiFi Security: Supports OPEN, WEP, or WPA/WPA2 types, WPA2-Enterprise (802.1x/RADIUS authentication) network is not supported.
WiFi: Requires 2.4GHz (802.11 b/g/n), channels 1-13 network (5GHz WiFi is NOT supported)
Mobile Network (model dependent): LTE-FDD: B1 / B3 / B5 / B8 ; LTE-TDD: B34 / B38 / B39 / B40 / B41 ; WCDMA: B1 / B5 / B8 ; GSM: 900 / 1800MHz
Ethernet: GS1-AETH1RS only supports Ethernet switch with 100 Mbps or lower. Gigabit switching hub with auto-negotiation is also compatible.
Dimensions: 5.98" x 3.54" x 2.16" 
Weight: 436g ± 3g
Enclosure: IP65 - water resistant/weather tight Enclosure suitable for outdoor use. (models GS1-A and GS1-AL4G1RS).  Because of Ethernet cable GS1-AETH1RS is not IP65 rated.  
Device Setting: Supports minimum device sync interval (upload) is 1 minute, and minimum sensing interval is 1 minute (Temperature, Humidity, Light, External Probe and Battery Voltage)
Alert Types: Supports APP push notifications, email, SMS text and phone call alerts. Alerts can be set on numeric-based sensor readings and network status (e.g. when connection is lost or batteries are low). All alerts are sent from the UbiBot Cloud.
Reviews