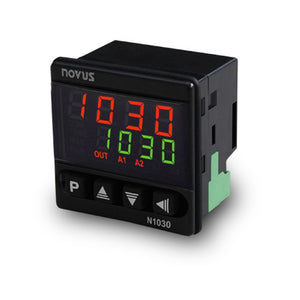 N1030 PID Temperature Controller with 35mm Depth 1/16 DIN Size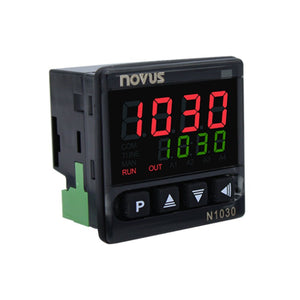 N1030 Compact PID Temperature Controller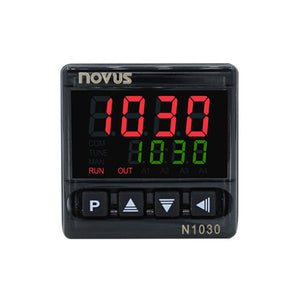 The N1030 PID temperature controller features a bright display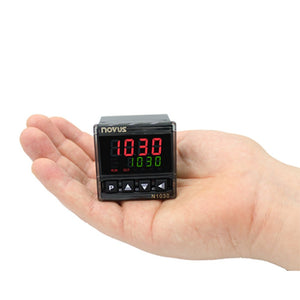 The N1030 is compact yet powerful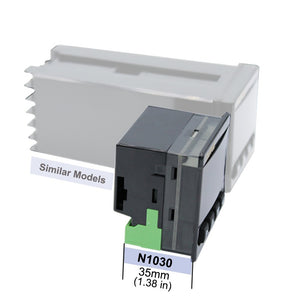 The N1030 with 35mm depth much less than comparable controllers
Inputs J, K, T Thermocouple, Pt100 RTD
PID or On/Off Control
Auto-Tune or Manual PID Tuning
Heating or Cooling Control Mode
Two Outputs, SSR Pulse and Relay
Ultra-Thin 35mm Depth
Pluggable Terminal Block
One Output Configurable for One of 7 Alarm Types
IP65 Protection Rating

Optional 12/24V Power
The N1030 is a powerful but compact temperature controller. Easy to install and configure, its compact 1/16 DIN size allows it to fit perfectly into most control panels including those where space is at a premium. It can work with a variety of temperature sensors and operate in either the ON/OFF or PID control mode. The N1030 temperature controller is ideal for optimizing processes, reducing oscillations and making the system more stable and efficient.
Two Outputs Configurable for Controlling or Alarming
The controller has two outputs that can be used for alarm or control.  When set to control, the output can operate with PID or ON/OFF control.  In the PID mode the PID parameters may be tuned manually or set to auto-tune.  When configured as an alarm the output can trigger on high value, low value, deviation from set point or on sensor break.
Pluggable Terminal Connector
An innovative detachable terminal block makes wiring sensors and outputs fast and easy. 
Extra Bright Display
Even with its small size the extra bright dual display allows for easy reading at a distance.
Compact Size and Remarkably Low Panel Depth
The N1030 has a compact 1/16 DIN size which allows it to fit into a panel with minimum available space.  It also boasts a panel depth of only 35mm which is less than any other comparable controller on the market.
Suited For Industrial Environments
N1030 controller is ideally suited for industrial environments.  With its IP65 rating it has guaranteed resistance to water jets and complete protection against dust. It also features password access as a means of protecting the configuration parameters, not allowing modifications to the parameters values and avoiding tampering or improper manipulation.

N1030T Version with Two Independent Timers
The N1030T is a version of the N1030 with two independent timers.
The timers can be associated with any output of the controller. The output associated with a timer turns on during the timing period.  The timers may be set to start timing either when the setpoint is reached or when a key is pressed on the controller front panel.  The timers may be set for up or down counting and have a time base in minutes or seconds allowing them to be programmed for up to 99:59 mm:ss or 99:59 hh:mm.
 To Order Click on the part number (or scroll to the top of the page  and choose options) then  click on ADD TO CART button

 PART NUMBERS
DESCRIPTION
N1030 PID Controllers
N1030-PR
N1030 PID Temperature Controller with One SSR Pulse Output and One Relay Output, 100-240 Vac / 48-240 Vdc  Power

N1030-PR-24V
N1030 PID Temperature Controller with One SSR Pulse Output and One Relay Output, 12-24Vdc/24Vac Power

N1030-RR
N1030 PID Temperature Controller with Two Relay Outputs, 100-240 Vac / 48-240 Vdc  Power
N1030-RR-24V
N1030 PID Temperature Controller with Two  Relay Outputs, 12-24Vdc/24Vac Power
N1030T PID Controllers with Two Internal Timers
N1030T-PR
N1030T PID Temperature Controller with One SSR Pulse Output and One Relay Output, 100-240 Vac / 48-240 Vdc  Power
N1030T-PR-24V
N1030T PID Temperature Controller with One SSR Pulse Output and One Relay Output, 12-24Vdc/24Vac Power
N1030T-RR
N1030T PID Temperature Controller with Two Relay Outputs, 100-240 Vac / 48-240 Vdc  Power
SPECIFICATIONS
Inputs/Ranges
J Thermocouple: -110 to 950 °C (-166 to 1742 °F)
K Thermocouple: -150 to 1370 °C (-238 to 2498 °F)
T Thermocouple: -160 to 400 °C (-256 to 752 °F)
Pt100 RTD (3-wire,a=0.00385): -200 to 850 °C (-328 to 1562 °F)

Accuracy: Thermocouple - 0.25% of span, Pt100 RTD -0.2% of span
Resolution of Display: 12000 levels (from -1999 up to 9999)
Rate of Input Reading: up 10 per second (without digital filter)
Temperature Unit: °C or °F
Input Impedance:  > 10 MO
Control Mode: PID, On/Off
PID Tuning: Auto-tune, manual
Control Action: Heating or cooling
Outputs: Voltage pulse for SSR (5 Vdc / 25 mA), SPST Relay (1.5 A / 240 Vac / 30 Vdc )
Sampling Rate: 200 ms
Available Alarms: 1
Alarm Types: Absolute Minimum, Absolute Maximum, Differential, Minimum Differential, Maximum Differential and Sensor Break
Parameter lock Password
Approvals: CE, UL and cUL.
Front Panel Protection Rating: IP65
Power Supply: 100-240 Vac / 48-240 Vdc, optional - 12-24Vdc/24Vac
Maximum Consumption: 5 VA
Panel Cutout Size: 48 x 48 mm, 1/16 DIN
Dimensions: 48 x 48 x 35 mm (1/16 DIN) (1.89 x 1.89 x 1.38 in)
Front Panel Thickness: 3.3 mm (0.13 in)
Weight: 60 g
Warranty: 3 years
Enclosure Material: UL94 V-2
Operation Temperature: 0 to 50 °C
Relative Humidity: 80% @ 30 °C
Reviews