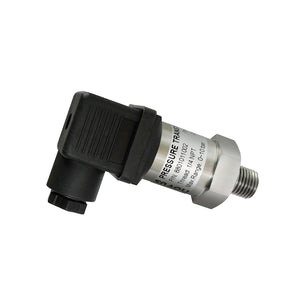 Software Scaleable 4-20mA Output Range
  3:1 Rangeabiity
  0.25% Accuracy
  Stainless Steel Body
  Stainless Steel and Viton Wetted Parts
  Dynamic Response Time < 30 ms
  IP65 Protection Rating
  Gauge Pressure Measurement
The NP620 is being replaced by the NP640 which is a newer design featuring all stainless steel wetted parts.
The NP620 family of industrial pressure transmitters are robust and reliable transducers suitable for general industrial applications. They feature piezoresistive oil-filled pressure front-end technology, digital field calibration capabilities and a wide range of pressure measurement ranges.
With a 0.25% accuracy the transducers are well suited for laboratory and R&D applications where precision pressure measurement is required. The rugged stainless steel body also makes them a good choice for industrial environments.

The NP620 transmitters 4-20mA output range is configurable to zoom up to 1/3 of the nominal range. This is accomplished using a USB connection to a Windows computer with the optional TxConfig-DIN43650 interface cable and free downloadable TxConfigII software. The factory calibration may also be adjusted in the field using the same software and cable connection.


 To Order the models below scroll to the top of the page and choose the desired model from the "Model" drop down menu, then ADD TO CART



SPECIFICATIONS
Type of Measure: Positive gauge pressure
Rangeability: 3:1
Measurement Accuracy: < ±0.25 % of the maximum Range (Max. Range) including linearity, hysteresis and repeatability, 25 °C
Maximum Thermal Error: < ±0.05 % Max. Range / °C
Overpressure Range: 2 times nominal pressure
Output Signal: 4-20 mA, 2 wires
Power Supply (Power): 11 to 33 Vdc
Protection Rating: IP65
Electrical Connector: DIN 43650 (EN 175301-803)
Operating Temperature: -20 to 70 °C / -4 a 158 °F
Dynamic Response: < 30 ms
Process Connection (Thread): ¼ NPT
Sensor Style: Polysilicon Piezoresistive (silicone oil filled)
Transmitter Housing: 316L  Stainless Steel
Wetted Parts: 316L Stainless Steel and FKM (Viton©)O-ring
Reviews