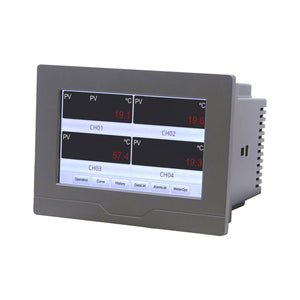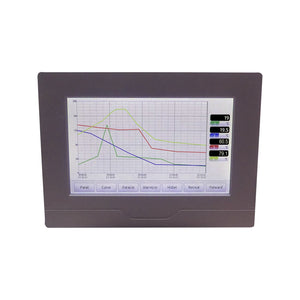 RDP15 Paperless Recorder/Data Logger Graphical Display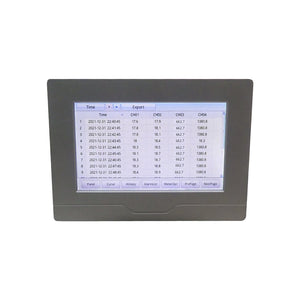 RDP15 Paperless Recorder/Data Logger Data List Display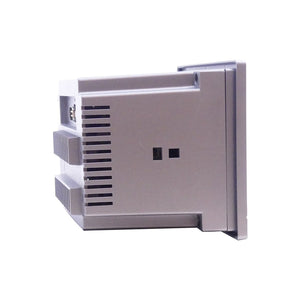 RDP15 Paperless Recorder/Data Logger Side View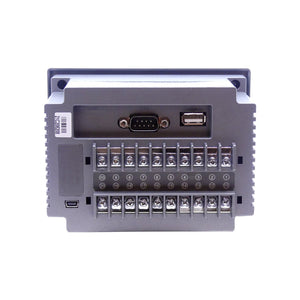 RDP15 Paperless Recorder/Data Logger Rear Display
Four Instruments in One: Data Logger, Paperless Trend Recorder, Panel Meter and Industrial Controller
Configurable for up to 4 Inputs, Thermocouples/Millivolt, 0-5vdc, 0-10vdc,0-20mA, RTD

Trend and Tabular Display
Data Logging to Excel Compatible Format
2 Alarm Relays
View and Log Real Time and Historical Alarm Data
Easy to Use Touch Screen Display
Password Lockout for Configuration Menus
The RDP15 is a data logger, paperless trend recorder, multi-channel panel meter and industrial controller all in one instrument. The RDP15s 5 inch touch screen display provides access to features typically found in instruments many times its price.

Modular Design Allows Flexible Input and Output Configuration
The RDP15 features a modular input design which allows it to be configured for a variety of input configurations. It comes with two input modules which can accept one or two input signals.  Input modules are available for the following sensor/signal types:

Two channel thermocouple/millivolt
Two channel 0-5vdc
Two channel 0-10vdc
Two channel 0/20mA
Two channel 0/20ma with 24vdc power (only two of these modules can be used)
Single Channel 3 Wire RTD(PT100, CU50)
The RDP15 will be shipped configured for the inputs specified at the time of ordering but the modules are field installable. Individual modules may be replaced or changed in the field.

Five Inch  Touch Screen Display with Easy to Use Menu Navigation
The 5-inch touch screen display provides a clear view of the data from any of the different data views. In the Panel Meter Mode, each of the four channels is displayed on the screen in a separate meter large enough to read even from a distance. It is also easy to read when viewing the data as trend curves or tabular data.
The menu navigation is simple and intuitive. Although a detailed user manual is provided most of the recorder functionality is so intuitive it can be used without the manual or any training.

A Hardware Architecture Designed for an Industrial Environment
Independent processing for the graphic interface and data logging allows data to be collected in true real time without interference from the man-machine interface operations. This is important for logging and control functions for industrial or critical applications. Independent processing is accomplished while maintaining low power consumption.

Virtual and External Alarms
In the Panel Meter View, a visual indication of the alarm is shown on the screen when an alarm is generated. You can also enter the Alarm View Mode to see either the real time alarm data or historical alarm data.  The Historical Alarm Data may also be exported to a USB flash drive in an Excel compatible format. The RDP15  also includes two 2A SPDT relays that may be connected to external alarm annunciators or control elements.

Data Logging
The RDP15 can log both historical data and alarm events. The RDP15 has 150M of storage space. The stored data can be played back on the recorder as a trend curve and/or table format. The data may also be exported to a PC in an Excel compatible format through the USB port to a USB flash drive.
 To Order the model below click on the part number below or scroll to the top of the page, select your input modules then  click on ADD TO CART button

| | |
| --- | --- |
|  PART NUMBERS | DESCRIPTION |
| RDP15-TC-TC | RDP15 with four channels thermocouple/millivolt input |
| RDP15-TC-5VDC | RDP15 with two channels thermocouple/millivolt and two channels 0-5Vdc input |
| RDP15-TC-10VDC | RDP15 with two channels thermocouple/millivolt and two channels 0-10Vdc input |
| RDP15-TC-20mA | RDP15 with two channels thermocouple/millivolt and two channels 0-20mA input |
| RDP15-TC-20MA/PWR | RDP15 with two channels thermocouple/millivolt and two channels 0-20mA with 24Vdc power input |
| RDP15-TC-RTD | RDP15 with two channels thermocouple/millivolt and single channel 3-wire RTD input |
| RDP15-5VDC-5VDC | RDP15 with four channels 0-5vdc input |
| RDP15-5VDC-10VDC | RDP15 with two channels 0-5Vdc and two channels 0-10Vdc input |
| RDP15-5VDC-20mA | RDP15 with two channels 0-5Vdc and two channels 0-20mA input |
| RDP15-5VDC-20MA/PWR | RDP15 with two channels 0-5Vdc and two channels 0-20mA with 24Vdc power input |
| RDP15-5VDC-RTD | RDP15 with two channels 0-5Vdc and single channel 3-wire RTD input |
| RDP15-10VDC-10VDC | RDP15 with four channels 0-10vdc input |
| RDP15-10VDC-20mA | RDP15 with two channels 0-10Vdc and two channels 0-20mA input |
| RDP15-10VDC-20MA/PWR | RDP15 with two channels 0-10Vdc and two channels 0-20mA with 24Vdc power input |
| RDP15-10VDC-RTD | RDP15 with two channels 0-10Vdc and single channel 3-wire RTD input |
| RDP15-20mA-20mA | RDP15 with four channels 0-20mA input |
| RDP15-20mA-20MA/PWR | RDP15 with two channels 0-20mA and two channels 0-20mA with 24Vdc power input |
| RDP15-20mA-RTD | RDP15 with two channels 0-20mA and single channel 3-wire RTD input |
| RDP15-20MA/PWR-20MA/PWR | RDP15 with four channels 0-20mA with 24vdc power input |
| RDP15-20MA/PWR-RTD | RDP15 with two channels 0-20mA with 24Vdc power and single channel 3-wire RTD input |
| RDP15-RTD-RTD | RDP15 with two channels 3-wire RTD input |
SPECIFICATIONS

Size
Display Size: 5 inches
Dimensions: 145 W × 105 H × 100 D (mm)
Cutout size: 135 W × 96 H × 96 D (mm)

Display
Color: TFT True Color
Resolution: 800 × 480
Backlight: Long-Life LED
Input Method: Touch
Touch Screen: Four-Wire Resistive

Recording/Memory
Recording Interval: 1 to 300 Seconds in 1 Second Intervals
Memory Capacity: 150MB.

Inputs
Number: 4(max) (Includes 2 Input Modules with 1 or 2 Channels each)
Accuracy: ± 0.2% FS ± 1 digit (± 0.2% FS ± 1 digit for CU50 RTD)
Note 1: When using the thermocouple inputs add 1 plus 1°C for cold junction compensation
Note 2: For B thermocouple accuracy only applies over range of 60-600°C

Input Modules
Two Channel Thermocouple/mV: K, S, R, E, J, T, B, N, C (WRe5-WRe26), 0-20mV, 0-100mV, 0- 1V
Two Channel Voltage: 0-5vdc
Two Channel Voltage: 0-10vdc
Two Channel Current: 0-20mA
Two Channel Current: 0-20mA with 24vdc Power
Single Channel RTD : CU50, PT100

Temperature Measurement Ranges:
K (-50 to 1300 °C), S (-50 to 1700 °C), R (-50 to 1700 °C), T (-200 to 350 °C), E (0 to 800 °C), J (0 to 1000 °C), B (+200 to 1800 °C), N (0 to 1300 °C), WRe3~WRe25 (0 to 2300 °C),
WRe5~WRe26 (0 to 2300 °C), CU50 (-50 to 150 °C), PT100 (-200 to 800 °C)

Temperature Units: °C

Response Time: ≤1.5 Seconds (with Digital Filter Set to 0 or 1)

Temperature Drift: ≤0.01% FS / °C (Typical Value 50ppm / °C)

Outputs: Two SPDT Relay Contact Output 250VAC / 2A

General
Power: 100~240VAC, -15%, + 10% / 50-60hz
Power: ≤6.5W
Environment: Temperature: -10 °C~+ 60 °C; Humidity: ≤ 90% RH
Storage Temperature: -20 °C~+ 80 °C
Weight: 0.55kg (1.2lbs)
Cooling: Natural Air Flow
Reviews