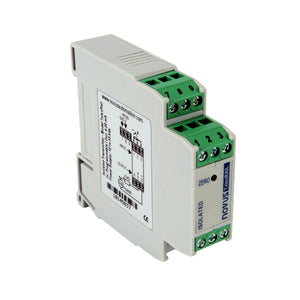 Programmable Input: Thermocouples Type J, K, T, E, N, R, S, B, Pt100 RTD, 0-50 mV, 0-20 mA, 4-20 mA and 0-10 V

1000 Vac Isolation for 1 Minute Between Sensor Input and 4-20 mA Output


DIN Rail Mount Unit

Configuration with a PC via TxConfig Interface

User Programmable Working Range 

2-Wire Loop Powered 4-20 mA or 20-4 mA Output

2 or 3-Wire Pt100 Input with Linearized Output

Cold Junction Compensation for Thermocouples

Manual Zero (Offset) Adjustment can be done by Means with 1 Front Key in the TxIsoRail

Sensor Failure Protection: Programmable Burnout Upscale or Downscale
TxIsoRail is fully programmable isolated temperature transmitter for Pt100 and thermocouple industrial sensors. It can be easily configured for input type and working range through an interface cable connected to a PC USB port.
Why use isolated transmitters?
Isolated transmitters protect the electrical instruments by eliminating ground loop effects and reduce substantially the undesirable interferences and instabilities in sensor measurements.
Programmable Input
The TxIsoRail can be programmed for a variety of industrial applications. It can accept thermocouples (types J, K, T, E, N, R, S and B), PT100 RTDs, 0-50 mV, 0-20 mA, 4-20 mA and 0-10 V.
Optional PC Configuration via TxConfig
The TxIsoRail can be configured through an interface cable connected to a RS232 PC port with the configurator software TxConfig. This software allows for users to easily configure the input type, desired working range, and necessary upscale or downscale protections.  For configuration via a USB port we offer the TxConfig-USB USB configuration adapter.
 To Order  click on the model below (or scroll to the top of the page and select the model from the drop down box) then ADD TO CART button

| | |
| --- | --- |
|  PART NUMBERS | DESCRIPTION |
| TXISORAIL-420MA | TxIsoRail with 4-20mA Output (requires optional TxConfig-USB for configuration) |
| TXISORAIL-010V | TxIsoRail with 0-10Vdv Output (requires optional TxConfig-USB for configuration) |
| ACCESSORIES | |
| TxConfig-USB | USB Configuration Adapter |
SPECIFICATIONS
Input:
Thermocouples - Types J, K, R, S, T, N, E and B to IEC 60584 (ITS-90). Impedance > 1 MΩ
pt100 - Excitation: 180 µA, 2 or 3-wire connection (for 2-wire sensors, tie, terminals 2 and 3 together). α= 0.00385, according to IEC 60751 (ITS-90).
Voltage - 0 to 50 mVdc, 0 to 10 Vdc. Impedance >> 1 MΩ. * Note: 0-10 Vdc input type requires an internal jumper switching. 0 to 20 mA, 4 to 20 mA. Impedance 15.0 Ω (+ 1.9 Vdc).
| | | |
| --- | --- | --- |
|  Sensor Type | Range | Minimum Measurement Span |
| Thermocouple K | -150 to 1370 °C / -238 to 2498 ºF | 100 °C |
| Thermocouple J | -100 to 760 °C / -148 to 1400 ºF | 100 °C |
| Thermocouple R | -50 to 1760 °C / -58 to 3200 ºF | 400 °C |
| Thermocouple S | -50 to 1760 °C / -58 to 3200 ºF | 400 °C |
| Thermocouple T | -160 to 400 °C / -256 to 752 ºF | 100 °C |
| Thermocouple N | -270 to 1300 °C / -454 to 2372 ºF | 100 °C |
| Thermocouple E | -90 to 720 °C / -130 to 1328 ºF | 100 °C |
| Thermocouple B | 500 to 1820 °C / 932 to 3308 °F | 400 °C |
| Pt100 | -200 to 600 °C / -328 to 1112 ºF | 40 °C |
| Voltage | 0 to 50 mV | 5 mV |
| Voltage | * 0 to 10 V | 1 V |
| Current | 0 to 20 mA | 2 mA |
| Current | 4 to 20 mA | 2 mA |
Output: 2-wire 4-20 mA, linear with respect to the measured signal

Resolution: 0.001 mA (14 bits)
Total Accuracy: Better than 0.3 % of the maximum span for thermocouples and 0.2 % for Pt100 and voltage
Response Time: < 500 ms
Isolation: Between the sensor and the 4-20 mA loop (1000 V / 1 min)
Power Supply: 12 to 35 Vdc, across the transmitter
Maximum Load (RL): RL (max.)= (Vdc – 12) / 0.02 [Ω] Were: Vdc= Power supply voltage
Operating Temperature: -40 to 85 °C
Humidity: 0 to 90 % UR
Electromagnetic Compatibility: EN 50081-2, EN 50082-2
Internal protection against polarity inversion
Cold junction compensation for thermocouples
Reviews