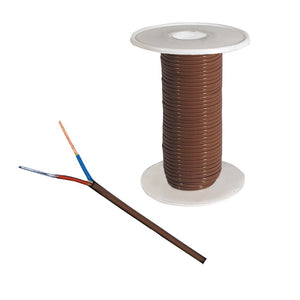 Type T Measurement Grade Wire
Special Limits of Error Accuracy
24 AWG Wire Size
PFA Insulation
Type K Calibration (Copper/Constantan Conductors)
ANSI Color Code
Available in 25, 50, 100, and 200 ft Spools
Our measurement grade thermocouple wire is ideal for constructing T type thermocouple sensors. This duplex wire consists of two conductors: one conductor constructed from copper and the other conductor from constantan alloy. Each 24 AWG conductor is individually insulated with a PFA coating with an additional layer PFA insulation over both conductors. PFA (Perfluoralkoxy) is a fluoropolymer with, temperature characteristics, chemical resistance and flexibility similar to Teflon®.
WR-TT  wire is color coded according to ANSI standards and conforms to Special Limits of Error Accuracy specifications.  It is offered in 25, 50, 100 and 200 ft spools.

Special Limits of Error Accuracy
American accuracy standards for thermocouples include Standard Limits of Error Accuracy and the higher accuracy class of Special Limits of Error. WR-TT wire conforms to Special Limits of Error Accuracy as defined by ASTM E230-ANSI MC 96.1.

Measurement Grade Wire at Extension Grade Pricing
There are two common grades of thermocouple wire: measurement grade wire and extension grade wire.  Measurement wire is a higher grade wire used for manufacturing thermocouples and  extension grade wire which is typically lower cost is used for extending thermocouples. Extension grade wire does not have the accuracy characteristics to be used for thermocouple manufacture.  We have priced our measurement grade wire to be competitive with  what many manufacturers charge for extension grade wire allowing our wire to be used to make thermocouples or as extension wire.
To Order  - To order click on the model number (or scroll to the top of the page and choose the desired options from the drop down menus) then ADD TO CART

| | |
| --- | --- |
|  Model | Description |
| WR-TT-T-24SLE-25 | Type T measurement grade thermocouple wire, 25 ft spool |
| WR-TT-T-24SLE-50 | Type T measurement grade thermocouple wire, 50 ft spool |
| WR-TT-T-24SLE-100 | Type T measurement grade thermocouple wire, 100 ft spool |
| WR-TT-T-24SLE-200 | Type T measurement grade thermocouple wire, 200 ft spool |
| WR-TT-T-24SLE-1000 | Type T measurement grade thermocouple wire, 1000 ft spool |

SPECIFICATIONS

Thermocouple Type: T (Copper/Constantan)
Temperature Range: -450 to 500°F (-267 to 260°C)
Accuracy: Special Limits of Error, ±0.5°C(1°F) or ±0.4% of Reading (whichever is greater)
Wire Gauge: 24 AWG
Wire Insulation: PFA (Perfluoralkoxdy)
Reviews