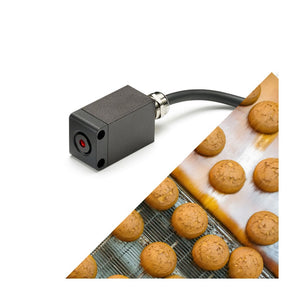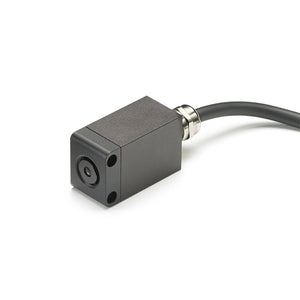 PyroCube S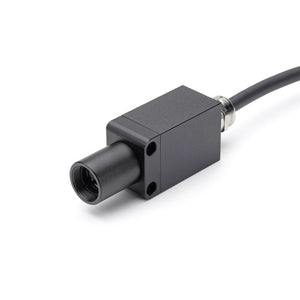 PyroCube F
PyroCube S Series Infrared Temperature Sensor with PM030 Touch Screen Interface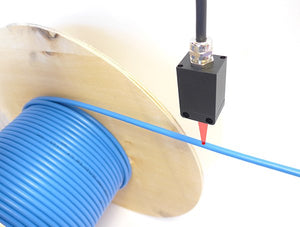 Measuring the temperature of electronic components with the PyroCube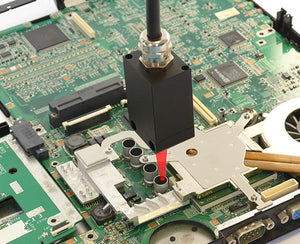 Measuring the temperature of electronic components using the PyroCube pyrometer
High Speed Response Time - As Fast As 1 ms
Spot Size as Small as 1.6 mm

Temperature ranges from 0°C to 500°C
4-20mA Output
Continuous LED sighting shows the position and size of the measured spot while readings are being taken
Multilingual touch screen interface (optional)
The PyroCube is a non-contact infrared temperature sensor with built-in LED sighting. It has an extremely fast response time, and can precisely measure the temperature of a very small area. The continuous LED sighting illuminates the position and size of the measurement spot while readings are being taken, without affecting the accuracy of the measurement. The sensor works by detecting the infrared radiation emitted from a surface as a result of its own temperature. The amount of radiation emitted is related to the temperature, and the sensor uses this relationship to provide an accurate temperature measurement.

The PyroCube is suitable for measuring non-metals such as paper, thick plastics, food, rubber, electronic components, cable insulation, ceramics, textiles, painted surfaces among many others.
The PyroCube S series has a 10ms response time and the PyroCube F has an ultra fast response of 1ms.
Optional PM030 Touch Screen Interface Module

The PM030 is an optional multilingual touch screen interface module for the PyroCube sensor. The PyroCube can be used with or without the optional PM030. It functions as a standalone temperature indicator, alarm unit and configuration tool, and a selectable analogue output allows it to be connected to further instrumentation.
All the settings of the PyroCube sensor are adjustable via the built-in touch screen interface. When an optional MicroSD Card is inserted into the PM030, the system functions as a fully-configurable temperature data logger.
Ordering

Select from the drop down boxes on the top of the page

1) Response Time/ Field of View - choose from
  10 ms response, 1.6 mm spot at 35 mm distance
  10 ms response, 3 mm spot at 70 mm distance
  10 ms response, 5.5 mm spot at 120 mm distance
  1 ms response, 3.5 mm spot at 120mm distance
  1 ms response, 7.0 mm spot at 200mm distance

2) Cable Length
    2 Meters
    5 Meters
    10 Meters

3) Voltage Output
   0-1Vdc
   0-5Vdc
   0-10Vdc
Note: All models also have 0-20mA, 4-20mA and mv/°C outputs as standard.  If voltage output is not required, choose 0-1Vdc
Most Common Configurations
The most common configuration of the PyroCube are shown here.  Use the drop down boxes at the top of the page to select other configurations.

| | |
| --- | --- |
| PART NUMBER | DESCRIPTION |
| PCU-S1.6-2M-1V | PyroCube for general purpose measurement with 10 ms response, 1.6 mm spot at 35 mm distance, 2m cable and 0-1Vdc output |
| PCU-S3.0-2M-1V | PyroCube for general purpose measurement with 10 ms response, 3 mm spot at 70 mm distance, 2m cable and 0-1Vdc output |
| PCU-S3.0-2M-1V | PyroCube for general purpose measurement with 10 ms response, 5.5 mm spot at 120mm distance, 2m cable and 0-1Vdc output |
| PCU-F3.5-2M-1V | PyroCube for general purpose measurement with 1 ms response, 3.5 mm spot at 120mm distance, 2m cable and 0-1Vdc output |
| PCU-F7.0-2M-1V | PyroCube for general purpose measurement with 1 ms response, 7.0 mm spot at 200mm distance, 2m cable and 0-1Vdc output |
| Accessories | |
| PM030 | Touch screen interface module for all PyroCube models |
SPECIFICATIONS
Temperature Range: 0°C to 500°C
Analog Output Scale Factory set: 4 mA = 0°C, 20 mA = 500°C Adjustable via optional touch screen module or RS232
Response Time (95%): 10 ms, Adjustable up to 5 s via averaging function
Measured Spot Diameter: From 1.6 mm (see Field of View Diagrams below)
Target Sighting: Red LED built-in as standard on all models, shows the position and size of the measurement area. Switchable on/off
Accuracy of Measurement: ± 3°C or 1%, whichever is greater
Repeatability: ± 0.5°C
Temperature Resolution: <0.5°C
Emissivity Setting: Adjustable, 0.3 to 1.0, via RS232C or optional touch screen interface
Spectral Response: 2-7 µm

Field of View
Reviews