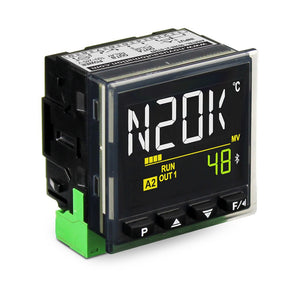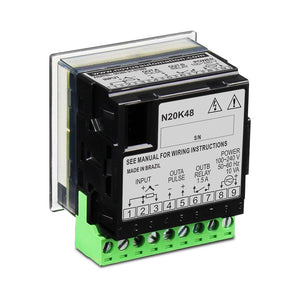 N20K48 Rear View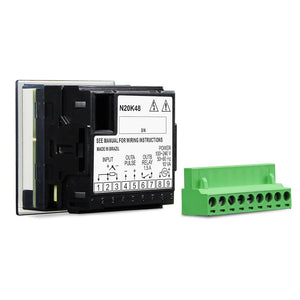 N20K48 Detachable Screw Terminals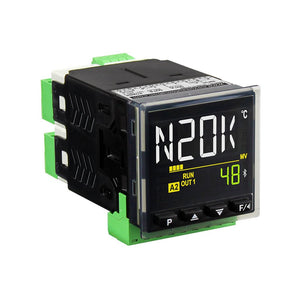 N20K48 With Expansion Dock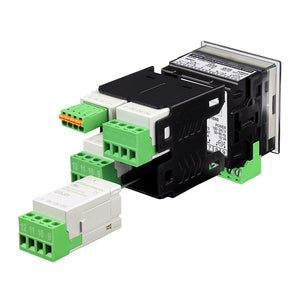 N20K48 With ClickNGo Modules
Input Types: Thermocouple J, K, T, E, S, N, R, B, PT100, 0-50 mV, 0-5 V, 0-10 V, 0-20 mA and 4-20 mA
AutoTune PID Control
Heat or Cool Control Action
Compact 1/16 DIN Size

1 Pulse and 1 Relay Output Expandable with Micromodules
Ramp & Soak: 20 Programs, 9 Segments
18 ms Sampling Rate
USB and Bluetooth Communications
RS485 Modbus RTU (optional)
Expandable Via ClickNGo Modules
Wireless Configuration and Diagnostics
Lowest Depth Controller in the Market
Smartphone and PC Friendly Software
Optional WiFi Connectivity for Remote Access

(New!

)

The N20K48 Modular Controller brings a new concept of modularity to PID controllers. Traditionally manufacturers of electronic instrumentation have a wide range of controllers. Each model presents different functionalities designed to meet the specific requirements of each installation. However the N20K48 Modular Controller starts with the core unit with the most popular features but provides many expanded capabilities through the addition of plug and play ClickNGo add-on modules. The ClickNGo modules provide features such as analog inputs and outputs, digital inputs and outputs, and RS485 communications. When added to the core unit, the ClickNGo modules are automatically recognized by the controller, which will display the parameters to set the available resources. A dock accessory is used to attach the modules to the controller. All modules have screw terminals for electrical connections.


Core Unit Features
Without the addition of ClickNGo modules, the N20K48 Modular Controller is a complete and autonomous device capable of handling many basic control functions. It capabilities include

1 Universal Analog Input Channel
1 Voltage Pulse Output Channel *
1 Relay Output Channel *
Ramp and Soak Control
PID, AutoTune PID and On/Off Control Modes
Ramp and Soak Control
Multiple Alarm Modes
Timer Control
USB Communications and Wireless Bluetooth Communications

* Expandable with ClickNGo modules


Ramp and Soak
The N20K48 controller allows you to create a set point profile, called Ramp and Soak program. You can set up to 20 different profiles with 9 segments each. You can also create longer profiles of up to 180 segments by linking 2 or more profiles. The figure below shows an example of a ramp and profile.


Alarms
N20K48 Modular Controller has 4 independent alarms which can be configured to operate in any of the following modes:


Low Minimum Value
High Maximum Value
Differential Value
Differential Minimum Value
Differential Maximum
Input Error
Ramp and Soak Event Alarm
End of Ramp and Soak Profile
Input Loop Break Detection


Timers
The controller has 2 timers, which operate independently of the primary control function. The timers may be applied to the relay or digital outputs.


Manual PID, AutoTune, Adaptive AutoTune or Simple On/Off Control
The N20K48 has advance control capabilities. PID control requires tuning the controller to the process. The N20K48 allows the tuning parameters to be entered manually or it can be set to self tune with AutoTune and Adaptive AutoTune mode. Auto-Tuning is initiated at the operator request while Auto-Adaptive Tuning is initiated by the controller whenever the control performance is lower than desired. The N20K48 can also be set to operate in the more simple on/off control mode.


USB and Bluetooth and Optional RS485 Communications
The N20K48 Modular Controller has both USB and Bluetooth Communications. These communications are used for configuration and diagnostics. We offer QuickTune software for communicating with the N20K48 through the USB connection and QuickTune Mobile for wireless Bluetooth operation.
There is also an optional ClickNGo module which adds RS485 with Modbus Protocol. RS485 is ideal for monitoring purposes of one or more controllers. We also offer the free the FieldChart-Lite software which can monitor 8 simultaneous devices. 
WiFi Connectivity(

New!

)
By adding the CG-WiFi ClickNGo module the N20K48 can be used an IoT device with WiFi connectivity for remote access and control. The WiFi module is supported by the Novus Cloud platform and  also supports Modbus TCP and MQTT protocol which which provides compatibility with other Data Acquisition and SCADA software packages.


Free QuickTune Software

QuickTune is a free software tool for parameter configuration of NOVUS controllers and indicators. With its clean interface any lay or advanced user can friendly access and modify all device functions for proper configuration. Designed for easy and quick commissioning, it provides diagnosis and monitoring resources to field technicians. More than a software, QuickTune is a tool. Furthermore, QuickTune offers the main features to meet most users and profile needs in the industry.


ClickNGo Modules

The ClickNGo electronic modules extend the N20K48 Modular Controller capabilities. They are electrically powered by the controller and have their own connectors. There are three different module sizes. Currently, the following modules are available:


ClickNGo DOCK
Once attached to the back of the N20K48 Modular Controller, the dock allows you to attach electronic modules to the device. The dock is designed to hold up to 8 ClickNGo modules.
Size 1 modules use one slot and a controller dock can hold up to eight Size 1 modules.
Size 2 modules use two slots and a controller dock can hold up to four Size 2 modules.
Size 4 modules use four slots and a controller dock can hold up to four Size 4 modules.


FieldChart Supervisory and Data Acquisition Software (Lite version available as a free download)

FieldChart is a software used for monitor and register data acquired from NOVUS products. It generates real time trends and data lists that can be exported in usable formats like a spread sheet. There are two versions available: FieldChart-Lite and FieldChart-64C. The FieldChart-Lite can register 8 simultaneous channels and it is available for free. The FieldChart-64C can register up to 64 simultaneous channels.
To Order click on the model below or scroll to the top of the page and select the model number then click on ADD TO CART button

| | |
| --- | --- |
| PART NUMBERS | DESCRIPTION |
| N20K48 | N20K48 modular controller with 100-240 Vac/dc power (ClickNGo modules and expansion dock sold separately) |
| N20K48-24V | N20K48 modular controller with 12~24 Vdc / 24 Vac power( ClickNGo modules and expansion dock sold separately) |
SPECIFICATIONS

Input Types/ Ranges
J Thermocouple: -110 to 950 °C (-166 to 1742 °F)
K Thermocouple: -150 to 1370 °C (-238 to 2498 °F)
T Thermocouple: -160 to 400 °C (-256 to 752 °F)
N Thermocouple: -270 to 1300 °C (-454 to 2372 °F)
R Thermocouple: -50 to 1760 °C (-58 to 3200 °F)
S Thermocouple: -50 to 1760 °C (-58 to 3200 °F)
B Thermocouple: 400 to 1800 °C (752 to 3272 °F)
E Thermocouple: -90 to 730 °C (-130 to 1346 °F)
PT100: -200 to 850 °C (-328 to 1562 °F)
Current: 0-20mA, 4-20mA,
Voltage: 0-50mVdc, 0-5Vdc, 0-10Vdc

Internal Resolution: 32767 levels (15 bits)
Display Resolution: 12000 level (from - 1999 to 9999)
Reading Rate: Up to 55 per second

Accuracy
Thermocouples: J, K, T, E: 0.2 % of span ±1°C
Thermocouples: N, R, S, B: 0.25 % of span ±3°C
PT100: 0.2% of span
Voltage/Current: 0.2% of span

Input Impedance
0-50 mV, PT100 and Thermocouples: >10 MΩ
0-5 V: >1 MΩ
4-20 mA: 15Ω (+2Vdc@20 mA)

PT100 Measurement: 3-wire type (a=0.00385), 0.170 mA excitation current.

Control Output
Voltage Pulse for SSR (OUT A): 5 V maximum. / 20 mA
SPST-NO Relay (OUT B): 3 A / 240Vac

Communication Interfaces
USB 2.0 Interface
Bluetooth Low Energy (BEL) Interface

Enclosure
Frontal Panel: IP65, polycarbonate - UL94 V-2
Housing: IP30, ABS+PC UL94 V-0

Software
QuickTune (PC)
QuickTune Mobile (Smartphones)

Dimensions: 48.8 x 48.8 x 36.7 mm (1/16 DIN)
Panel Cut-out: 45.2 x 45.2 mm (+0.5 -0.0 mm)
Approximate Weight: 70 g (without dock and modules)
Power Supply: 100 to 240 Vac/dc (±10 %), 50 / 60 Hz, Optionally 24V: 12 to 24 Vdc / 24 Vac (-10 % / +20 %)
Maximum Consumption: 10 VA
Operating Temperature: -20 to 60 °C (-4 to 140 °F)
Relative Humidity: 80 % max. @ 30 °C (Reduce 3 % for each °C for temperatures above 30 °C)

Reviews